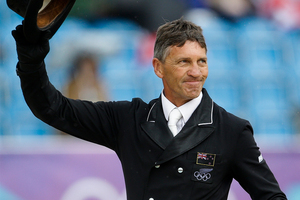 The in-form Andrew Nicholson spearheads a strong New Zealand contingent in the last CCI four-star event of the northern hemisphere eventing season at Les Etoiles des Pau in France this weekend.
It's one of just six four-star events in the world, and has attracted the big guns, including world champion and Olympic gold medallist Michael Jung (Germany) and this year's HSBC FEI Classics winner William Fox-Pitt (Great Britain). Nicholson narrowly finished second in the standings.
But Nicholson, who was also second at Pau last year, has been in superb form recently, winning four big events in the past four months - the four-star Burghley International Horse Trials and the three-star Boekelo, Blenheim and Barbary Castle events.
He's also on the cusp of finishing the season at the top of the world rankings which would bring a US$50,000 bonus.
Nicholson has both Mr Cruise Control and Nereo entered at Pau and he's picking his bronze medal-winning world championships and Olympic mount Nereo to finish at the front of the field - just ahead of Mr Cruise Control.
"Nereo is my best bet," said Nicholson, who was a key part of New Zealand's Olympic bronze medal-winning team.
However, it is Nereo's first start at Pau and Mr Cruise Control was second in the event last year.
The event is the grand finale of the international eventing season this weekend but also the start of the new HSBC FEI Classics series and Kiwi riders plan to make a big impact on both.
Also competing at Pau will be Jonathan Paget on Clifton Promise, Caroline Powell aboard Onwards and Upwards and Mark Todd on Major Milestone and they will line up against members of the gold, silver and bronze medal-winning teams from the London Olympics.
The event has attracted more than 60 entries from 17 nations and starts tonight (NZT) with the horse inspection and concludes on Sunday night (NZT) with the showjumping.
- APNZ