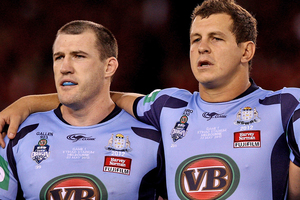 Paul Gallen and Greg Bird line up ahead of a State of Origin clash. Photo / Getty Images
New South Wales hard men Paul Gallen and Greg Bird are the latest league stars to have signed on for December's Fight for Life.
All Black hooker Hika Elliot and Blues utility back Rene Ranger will also take part in the Rugby vs League showdown.
Gallen has played 14 Origin matches for New South Wales along with 22 tests for Australia including the side's recent 18-10 win over New Zealand.
Bird also played in the Townsville test and has lined up for New South Wales on 11 occasions.
They have been joined by three former stars with 35-test All Black Carlos Spencer, 22-test lock Troy Flavell and Kiwis great Jarrod McCracken all donning the gloves.
Former Kangaroos international Willie Mason will headline the event for the league team.
The boxing event, which races money in aid of the Prostate Cancer Foundation, takes place on December 15th at The Trusts Arena in Waitakere.
Fight For Life organiser Dean Lonergan said the standard of athletes has set a new standard for the charity event.
"The standard of the athletes prepared to put their bodies on the line continues to amaze me," Lonergan said. "The fact that we have guys who played in State of Origin this year and another two who starred in the Super 15 is setting new ground for the Woodstock Honey Fight for Life.
"This event has been seen as something of a rite of passage event for former players in the past but this card proves that guys who are still at their peak in their sports want to get in on the action and do their part for the event.
"People can be pretty cynical when it comes to how they view footballers. It's events like this though that helps break down stereotypes of athletes being all about themselves. In fact, it blows that tired argument right out of the water," said Lonergan.
Ranger, who played three tests for the All Blacks in 2010, said the event presents an opportunity to get into peak condition ahead of next year's Super 15 season as he fights to reclaim his All Blacks spot.
"My Super Rugby coaches always give me heaps about making sure I turn up to preseason in good condition," he said. "So this way I figure that not only do I get to take on a new challenge in boxing, I will also keep my coach happy by turning up to preseason fit!
"Boxing training is so different to anything we actually do with rugby. It is high intensity for 2 minutes at a time. In rugby you are only every really going full noise for a matter of seconds so this will definitely help build up my base fitness. I also think that it will add something mentally. There is nowhere to hide in the boxing ring. You can't let your mates do the work for you. It is just you and your opponent."
League team
Willie Mason
Paul Gallen
Greg Bird
Jarrod McCracken
Rugby team
Hika Elliot
Rene Ranger
Troy Flavell
Carlos Spencer
- nzherald.co.nz