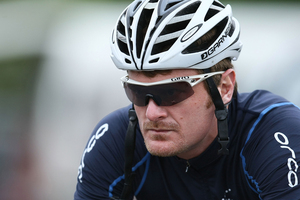 Controversial American cyclist Floyd Landis has pulled out of next month's Tour of Southland.
Landis, who admitted doping during his Tour de France victory in 2006 and then pointed the finger at the recently disgraced Lance Armstrong, competed in the 2009 and 2010 Southland races, finishing fourth in the latter.
It is understood that the 37-year-old is lying low as the storm continues around Armstrong being stripped of his seven Tour de France titles and receiving a life ban from cycling.
Richard McIlraith, an Auckland lawyer and cycling enthusiast who was partly responsible for bringing Landis to Southland, said today Landis' decision not to come was a sudden one.
"Some things have happened in the States and unfortunately he's had to change his plans," McIlraith said.
"His comment was that he had been training hard and was really looking forward to the race. He is very disappointed and saddened that the guys who were looking forward to riding with him on the team wouldn't now do that."
Landis and fellow American whistleblower Tyler Hamilton, who has also admitted to taking performance-enhancing drugs, have been portrayed as courageous in some sections of the media but Pat McQuaid, the head of cycling's global body, referred to the pair recently as "scumbags".
"Another thing that annoys me is that Landis and Hamilton are being made out to be heroes," he said in delivering his verdict on cycling in the wake of the Armstrong affair. "They are as far from heroes as night and day. They are not heroes. They are scumbags. All they have done is damage to the sport."
- APNZ