NZ loses rugby hero and a man who knew how to command respect.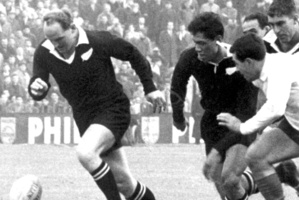 On the eve of last year's Rugby World Cup final, Sir Wilson Whineray, who died yesterday aged 77, was asked if he would be interested in writing a piece on the match for the Weekend Herald.
The idea was it would be an open letter to both the All Blacks and the nation, in the words of one of their greatest leaders and most celebrated of New Zealanders. This writer had a bit-part role in helping construct the piece - my typing, his words - as we had done once before ahead of the 2003 World Cup.
He was delighted. Whineray talked about the previous few weeks, what the cup had brought to New Zealand, and in more than merely a rugby sense. He went through what the All Blacks had to do to win the final against France in rugby terms, ticking off, in bullet point fashion, the key matters which needed to be addressed and completed.
Then he touched on what a wretched year it had been for New Zealanders: Pike River, the Canterbury earthquakes, the Rena haemorrhaging oil along the Bay of Plenty coast combining to make it 12 unforgettable months.
But the point which stuck most with this writer, in discussing the tournament, the game, and indeed life, was this proud New Zealander stressing that the result was just part of the picture. Be ready, he warned, for the "wrong" result in the final.
"Win or lose, we will be humble and gracious, no matter what happens," he said, and we wrote. "One of the glories of sport is that there is always a winner and a loser. Fortunately, winning is never forever, but neither is defeat."
This was not to suggest he was neutral on the outcome. He wanted 24 years of Rugby World Cup hurt to end; it's just that he appreciated the danger of the All Blacks, and the nation, getting ahead of themselves and knew that it was, bottom line, a game, albeit a rather important one.
His voice was firm and decisive, the sentiments fair-minded. As he spoke it was easy to imagine a team-talk back in his All Black days. Whineray was the unquestioned leader, possessed of a blend of the statesmanlike with a tough-minded determination to succeed. Fine prop that he was, he had the ability and mental acuity to command unswerving respect from men with greater playing ability than himself.
New Zealanders like modesty in their heroes. Big noters do not cut it. You could not imagine Whineray condoning some of the modern excesses.
One of his favourite lines was that he did not regret a single day in his life.
New Zealand rugby has lost an outstanding leader; New Zealand has lost one of its true greats.
The leader
Sir Wilson Whineray
All Black matches: 77
Tests: 32
Tests as captain: 30
Test captaincy record: 23 wins, 3 draws, 4 losses.