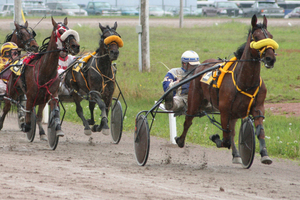 The gap between the champ and the rest was rarely better shown than by Dr Hook's narrow win in the Flying Mile at Ashburton yesterday.
It proved that any time champion trotter I Can Doosit isn't in the race, the feature trots don't really count.
Dr Hook overcame a small tactical error by driver Jim Curtin on the home turn to wear his way past leader The Fiery Ginga, with the winner's stablemate Stig storming into third after getting pushed back mid-race.
It was Dr Hook's second win in the Flying Mile and trainer Paul Nairn's fourth in six years. While the winner was professional and brave, open-class trotting races in this part of the world are now clearly divided into two types - the serious ones with I Can Doosit in them, and the others, which are consolations for the very good trotters who live in his shadow.
I Can Doosit was allowed to miss yesterday's race after being flattened by his last start but could head to Kaikoura on Monday and then the New Zealand Cup meeting.
He gave Stig and Dr Hook a 20m start and a beating at Addington last start, so yesterday's result just re-emphasises his dominance. The win was Dr Hook's 13th, though, and took him past $300,000 in earnings, reward for consistency coupled with the ability to run handy in his races.
The question his connections now face is the same as those of every other fine open-class trotter in New Zealand.
In the new year, the focus of the open-class season moves to Australia, with a string of big-money races culminating in the new feature, the Great Southern Star.
Would you bother spending the not insignificant sum of money it takes for a lengthy Australian campaign to go chase I Can Doosit around or do you stay home where small fish could be sweet?
That decision could be made easier for the connections of Dr Hook and Stig as they are stablemates, able to travel together, share costs and their trainer Paul Nairn likes a trip away from home.
After what has unfolded in the open-class trotting ranks this year and especially this season, the connections of most other trotting stars could make a different decision.