Opportunity was there so we had to give it a go, says skipper.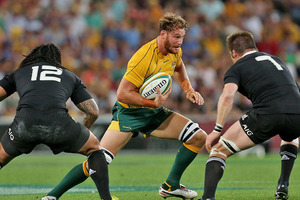 Convention suggested a stalemate was an acceptableconclusion. Not for captain Richie McCaw as he called for a scrum in his 22, when the All Blacks won a penalty deep into injury time in their transtasman clash with the Wallabies.
"It was a spur of the moment thing. Perhaps it would have been a safer thing to do to bang it out but we had an opportunity," he recalled.
The Wallabies had just muffed their chance to take a dropped goal and the All Blacks felt they might go 80 metres or set for a drop themselves.
"I'm not big on conceding when you have a chance," McCaw added.
A few phases later after a scorching Ben Smith break, the All Blacks set for a Daniel Carter drop which missed its target by half a metre.
The last five minutes at Suncorp Stadium in Brisbane were the most exciting parts of a sloppy match, as both teams worked into position to break the deadlock.
But on a night when exertion was heavyweight but skills did not keep pace, it was appropriate that the sides should share the result.
More than 24 years ago at the Ballymore ground in Brisbane, the same teams fought out a 19-all draw, which interrupted that All Black tilt at a world-record winning sequence.
And 14 months ago at Suncorp, the Wallabies were the last team to beat the All Blacks.
McCaw's pain, apart from being kneed and headbutted by Scott Higginbotham, was that his team had not played well. Under the pump, they had not delivered.
"We will reflect when we get home that 'bugger, we didn't get it right' and that's just the way it is I suppose and we have to fix it up," he said.
McCaw shrugged off Higgin-botham's cowardice, but was annoyed and frustrated and hoped video evidence would deal with it.
Coach Steve Hansen saw the headbutt as another example of the cheap shots his skipper was subjected to regularly yet went unnoticed by match officials.
Assistant coach Ian Foster felt the Wallabies' ability to disrupt his side at set piece had damaged their attacking desires. "By doing that we lost the race to the gain line and the breakdown became a bun fight and after that it became a question of discipline in that area."
No 8 Kieran Read said the team had expected the Wallabies' response after they had ceded the Bledisloe Cup again earlier in the season.
They had gifted their hosts points in the first half and as they struggled to find their rhythm, they battled to get into the match.
At halftime they felt as if they could retrieve the test just as they had overturned a slow start in their previous test against the Springboks.
"We knew we were good enough, we gave ourselves opportunities but it probably comes down to execution at crucial times, maybe at set piece and decisions around the tackle," Read said.
The All Blacks' late arrival in Brisbane, the humidity and late kickoff were all topics but none could be used to explain the fitful performance. "I felt we had it in us in the tank and just didn't quite finish off well enough," he said.