All Blacks frustrated at not honouring centurion Mealamu with a victory.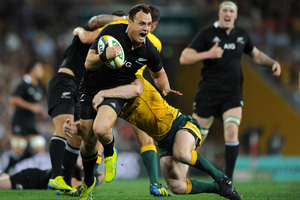 Sports teams hate stalemates and that was the All Blacks reaction to their 18-all draw with the Wallabies.
They felt they had not honoured hooker Keven Mealamu who became the third All Black to reach the magic 100 test club, or themselves with a ragged performance.
But for the Wallabies, the draw was bliss after the pounding they have taken this season.
They had been ravaged by injury but showed great heart to hold the No 1 side in the world. They could sing while the All Blacks muttered.
"Aussie were strutting round as though they had won," All Black fullback Israel Dagg lamented.
"We will have to take a look at ourselves, turn the phones off, not read anything and get set for Europe."
It was not the way the All Blacks wanted to end their Southern Hemisphere campaign, which coincided with Mealamu's milestone.
About 30 relatives made the trip to Brisbane and while there was huge pride at the hooker's feat, there was also a tinge of regret there was no victory to continue the tilt at the global record.
Mealamu was his usual decorous self, but also admitted he and his buddies felt hollow about their performance.
They had their chances even though they had not played well.
Under late advantage when Kurtley Beale knocked on, the All Blacks swept the ball wide but ditched the last pass before both sides had their injury time dropped goal misses.
Man of the match Kieran Read mentioned the frustration levels about not getting their game going and the disappointment at not honouring Mealamu with a win.
"I thought the Aussies were accurate and we were not as accurate as we liked to be," he said.
"We had a few penalties we should not have given away, handling errors that stopped momentum and it is the crucial things like that which really takes away our momentum."
Talk in the sheds at halftime was about correcting the mistakes and finding a 17th straight win even though they had not fired any shots.
Dagg reckoned the test had been "s***".
"We were just average, did not hold the ball, did not build any pressure, tried to score when we made breaks," he said.
"There were silly options; it was one of those games when we were on the back foot all the time."
There were no pre-match signs and the buildup had been strong.
But from the kickoff when Aaron Smith had his clearing punt charged down, there was a ragged edge to the All Blacks.
They finished with a rattling injury time charge from their own 22 as the hordes of Kiwi supporters tried to roar their side to a dramatic victory.
It was a great attempt, said Read, but they had played poorly and a draw was a positive.
Maybe so, it was better than defeat, although you could not tell from the looks on most of the players' faces.
All Blacks 18
Wallabies 18