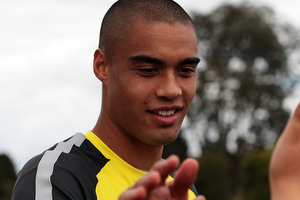 West Ham manager Sam Allardyce has criticised New Zealand's football federation after All Whites defender Winston Reid was called up for their recent internationals with Tahiti.
Reid made the 24-hour journey from England despite being unlikely to play as he had a back injury he sustained earlier this month and that proved the case as he missed both matches.
New Zealand were able to win the Tahiti clashes 2-0 and 3-0 without Reid as they edged closer to a 2014 World Cup play-off place.
But the centre-back is now a doubt for West Ham's Premier League game against Southampton this weekend and Allardyce insists New Zealand officials were wrong to make Reid travel when he was already injured.
"I don't see any sense in calling them over and particularly that far, because they are injured. I don't see any sense it in at all," Allardyce said today.
"I also think there was an underlining factor that they didn't trust him or us that he was injured.
"There's another underlining factor that tells me that the players are brought there and then they're put under enormous pressure to play, because of the loyalties to the country by the coaches and certain political elements which they have to resist.
"On one hand I'm all for international football but it doesn't make any sense to take them because they can't play. I don't understand that at all."
Allardyce was also relieved to have Mohamed Diame and Guy Demel back unscathed after riots forced Senegal's Africa Cup of Nations qualifier against Ivory Coast to be abandoned on Sunday.
Diame was shielded by police as he fled to the dressing room late in the second half when crowd violence in the stadium erupted on to the pitch.
"We had two very important players away in that horrific situation. They've come back okay," he added.
-AAP