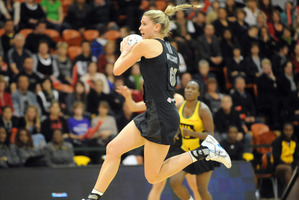 Disheartened by her opening two performances in her comeback from injury, Silver Ferns captain Casey Williams believes she is not ready to take on Australia this weekend.
New Zealand meet the Diamonds in the third leg of the Quad Series in Sydney on Sunday, with the match-up to decide who will go to the top of the leaderboard in the four nations tournament.
Williams has not played Australia since last year's world championship final and is eager to resume her on-court battles with the Aussie shooters, but she said on current form she shouldn't be in the line-up.
"I'd be hesitant [to take the court against Australia] ... I still feel quite lost out there," said an emotional Williams.
Upset after a lacklustre showing in the Ferns 18-goal win over England on Wednesday night, the super competitive defender's confidence appears to have hit rock-bottom.
Williams was introduced at halftime against England in Newcastle, but struggled to contain shooter Pamela Cookey, who led a third quarter English revival.
England closed to within five goals of the Ferns late in the third spell, before New Zealand kicked on in the final quarter to record a convincing, but hard-fought victory.
"I'm not really happy with that; there's so many things I want to go out there and change - too late now, I guess," said Williams.
She is accustomed to being the first player picked for the Ferns and now finds herself playing a supporting role to Leana de Bruin and Katrina Grant, both of whom have been in exceptional form this season.
"I haven't played for a long time so I'm feeling a bit behind," she said. "I'm still trying to get that confidence back in my knee and figure out what works and what doesn't."
New Zealand coach Waimarama Taumaunu said her star charge needs to keep in mind that it is still very early days in her comeback.
"She is very hard on herself. She needs to recognise that she hasn't had the same amount of practice or court time as the others.
"She's very disappointed about that, but she will get there," Taumaunu said.