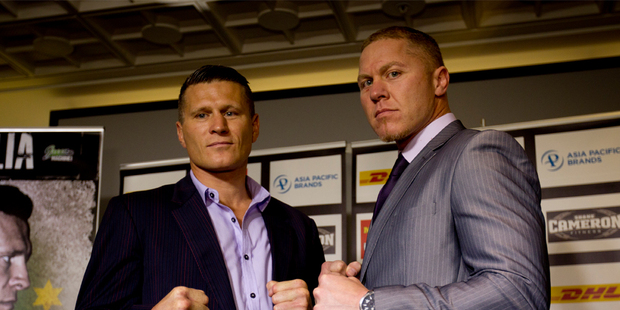 Shane Cameron and Danny Green may not meet for their world title fight until next month, but the Australian today scored a unanimous victory in the war of words.
In their only New Zealand press conference promoting their November 21 bout in Melbourne, there was more amiability than aggression between the fighters - but that didn't stop Green from landing a few verbal blows.
The respect was clear between the pair and, though trash talking was kept to a minimum before the IBO cruiserweight title tilt, Green showed he is as comfortable with a microphone in front of him as he is in the ring.
"I respect all my opponents so you won't hear anything but positive things from me,'' Green said. "But that doesn't mean to say once the bell goes my job isn't to dismantle him and chop him up.
"Shane chops up and I like to chop people up when I'm fighting. I cut a lot of guys and Shane's a guy, unfortunately for him, who does mark up. That's an advantage for me.
I've got big, horrible hands and they carry a bit of weight.''
Green said he was wary but not fearful of the type of power Cameron showed in his most recent fight - a stunning fourth-round knockout of American Monte Barrett - and insisted he would meet the Mountain Warrior toe-to-toe rather than rely solely on his speed.
"I've knocked out 28 people in my career so I don't like to dance too much in the ring,'' he said. "On `Dancing with the Stars' I came runner-up, so I can dance.
"But I like to dance with a girl. Shane's not a girl.''
Green's trainer Angelo Hyder, who has previously worked in Cameron's corner, said he had been remaining Green daily about the power possessed by his former charge.
"I know all about Shane's power and there's only one plan - don't get hit by Shane Cameron's best punch,'' Hyder said. "If you get hit by that you're in a world of shit.
"What Shane lacks in skill he makes up for in aggression and power. Danny doesn't want to get hit. I tell him every day, `don't get hit by Shane Cameron's best punch because there's going to be a lot on it'.''
That's what Barrett certainly discovered, and Cameron said Green was a brave man to take the fight on the back of that result.
"[Green] probably should've taken it two years ago, not now,'' Cameron said. "This fight itself has been in the making for a couple of years since the Green camp approached me to drop a weight from heavyweight to cruiserweight. I did that and I felt they kept changing the goalposts for whatever reason.
"It's certainly not because Danny's worried about me because he's taking me after the biggest victory of my career. ''
Green disputed that version of events but admitted he was impressed by Cameron's destruction of Barrett. He also talked up the trans-Tasman angle for the fight and hoped the ring would be one place to break New Zealand's recent dominance.
"I want to try to take back some pride for the Australian people after taking a battering in the netball and also the All Blacks giving the Wallabies a hammering. So I want to restore some pride for the crew back home.
"We traditionally are partners, New Zealand and Australia, we go back a long way. But come the 21st of November, it's all ties aside and it's going to be on.''
- APNZ