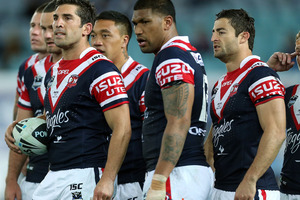 Steve Noyce's four-year association with the Sydney Roosters ended on Monday as the NRL club announced former chief executive Brian Canavan would return in a restructured role.
The Roosters issued a statement saying CEO Noyce and chairman Nick Politis agreed to go separate ways as part of a restructuring at the foundation club.
Noyce's departure follows that of coach Brian Smith, who was axed with a year to run on his contract with the Roosters bringing in rookie coach Trent Robinson.
Noyce had been in the position since late 2008 having held the same role at the Wests Tigers.
His departure follows a dismal season for the club on the field in which they finished 13th, missing the finals for the second consecutive year since their 2010 grand-final appearance.
"Stephen is a hard-working man of great integrity and honour and his work over the past four years has set our club up to move forward in a very solid position,'' Politis said in a statement.
Noyce replaced Canavan, who quit the Roosters in October 2008 after a 15-year association with the club.
Canavan will be the chief operating officer of football, with Roosters' general manager Ted Helliar named the commercial COO.
"Brian is the most experienced football administrator in the country and his return to the club he loves is a major coup. He will add the knowledge and crucial systems to the football department that is required in the modern game for ultimate success,'' Politis said.
- AAP