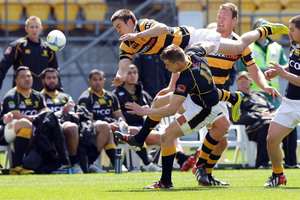 Wellington 33
Taranaki 17
If Wellington get into a free-wheeling mood they are one of the most attractive sides in the ITM Cup.
When they back that up with a determination in defence they become a real threat to take the title for the first time since 2000.
It was like that for three-quarters of this clash as Wellington shut out their franchise buddies while they accrued their bonus try victory with a mix of quality interplay, relentless support and unerring attention on defence.
Some of that precision ebbed away with the game won as they shed 17 points while Taranaki finally found some of the zing and impact they had earlier been denied.
"It was a tough day at the office but luckily we are in the semis and get another chance," Taranaki skipper Jason Eaton said.
His side had precious little possession in the first half and when they gained some they were either forced to kick out of defence or coughed it up under pressure.
Their returning star backs Beauden Barrett and Andre Taylor spluttered a bit too after a lack of recent rugby and there was an absence of rhythm about Taranaki.
Wellington looked the opposite. They were crisp on attack, sharp at set piece, intent on moving the ball into space and carrying the attack. They dominated territory with their offloads as Ardie Savea, Reg Goodes, Dane Coles, Tim Bateman and Jason Woodward rumbled and put the heat on the visitors to the Cake Tin.
Savea had an inquiry for the opening try turned down by the television match official after a wonderful series of controlled onslaughts from his teammates.
It took senior lock Ross Filipo to prise a path with Goodes as they rampaged down the touchline before the prop rolled a pass, probably forward, to a trailing Bateman for the Wellington captain to score.
Similar lineball transfers were in the next scoring move but Woodward's round-the-corner pass to Shaun Treeby was a beaut to set up the try for supporting flanker Scott Fuglistaller. Referee Bryce Lawrence had his specs on later in his 200th first-class outing when he sinbinned Jarrad Hoeata for a high tackle and then pinged Taranaki for having a man in front at a 22 restart.
Woodward turned on his afterburners for two quick tries and Wellington coasted to the finish.
Wellington 33 (Tim Bateman, Scott Fuglistaller, Jason Woodward 2, tries; Jason Woodward 2 con, 3 pen
Taranaki 17 (Jason Eaton, James Broadhurst, tries; Beauden Barrett con) HT: 17-0.
Play Jimungo Virtual End of Year Rugby Tours
Compete for prize money and bragging rights in Jimungo Virtual Rugby Tours - our game for all of the end of year international rugby matches. Simply choose the winning team and margin. Sign up now.