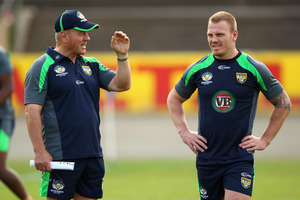 Tim Sheens says the walking wounded from his Kangaroos side will not be in any danger of missing the start of next season after edging out New Zealand in Saturday's bruising encounter.
Ryan Hoffman, Greg Inglis, Brett Morris and Nate Myles were all struggling with injuries after the game.
Melbourne's Hoffman limped off with ankle ligament damage and Inglis and Morris both required lengthy treatment for knee injuries.
"You don't play in a game like that and expect to come away without a few bumps and bruises," coach Sheens said.
"But there's nothing too serious that will require surgery.
"I didn't put Hoff back on as he was struggling to run and I didn't want to ruin him. But everyone carried that little bit extra to win the game."
Sheens said Myles was left on the bench for almost an hour because of a sternum injury.
Myles entered the fray with just over 20 minutes remaining, and helped set up Darius Boyd's match-clinching try with a clever offload.
Robbie Farah also sat patiently on the bench for 58 minutes, and Sheens said the introduction of the Wests Tigers hooker was a key reason why his side outlasted the Kiwis in the hot and humid conditions in Townsville.
"Cam [Smith] and Robbie took it up through the middle and it worked well," he said. "We knew they were going to be tired, they'd run out of interchanges and having two dummy halves worked well."
- AAP