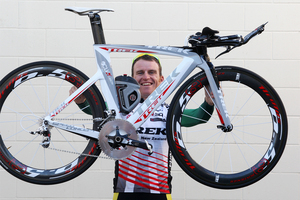 He's 40-years-old and making a comeback.
After retiring from international cycling in 2010, Kiwi Gordon McCauley is returning to race with Australian team Drapac Professional Cycling.
After trying his hand at triathlon, the 40-year-old says he became aware his strength was solely on the bike.
"Did a couple of half-ironmans just to see how I'd go at triathlon. It appears that I suck at triathlon, I swim like a set of car keys and run pretty slowly.''
McCauley says there's one title in particular that he has his eye on.
"I'd really like to have a crack at the Australian season long NRS (National Road Series). I've won the New Zealand national series, I've won the British national series so I'd like to have a crack at the Aussie.''
McCauley will not race in Europe, instead competing in Australia and Asia while based in New Zealand.