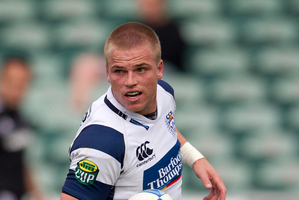 Cut by the Blues, new Chiefs signing Gareth Anscombe could be forgiven for feeling he has a few things to prove if he comes up against his former team next season.
He admitted as much today too, before catching himself and highlighting the positives of the move to Hamilton, where he will join the Super Rugby title holders and coaches with proven ability in Dave Rennie, Wayne Smith, Tom Coventry and Andrew Strawbridge.
"Most probably," was his reply when asked if there would be an extra edge to a meeting against the Blues and their new coach Sir John Kirwan, who decided there was no room for the 21-year-old Auckland first-five in his set-up.
"I am from here [Blues franchise area] but I can't get too caught up in that sort of stuff," Anscombe added.
"It's an exciting opportunity for me. The coaching structure there is pretty exciting, and the staff there, I think they've got a good mix.
I know a few of the boys down there and they've been really positive about it. I'm looking forward to the challenge.
"To be coached by some of the best coaches in the world is definitely something pretty exciting."
Anscombe, a former New Zealand Under-20 representative, said he had a few overseas offers on the table but didn't want to pursue them.
"I didn't really look down that channel, to be honest. I was keen to stay in New Zealand. There were a few others but I think the Chiefs are suited to me and I'm really looking forward to going down to Hamilton."
Anscombe will serve as a back-up to All Blacks first-five Aaron Cruden and said he was fine with that prospect.
"There is a positive and negative there. Aaron has been playing really well and that's a positive. I can learn off him a lot. Sure, he's an All Black and I certainly accept that, but I'll be going down there to challenge him."
Auckland coach Wayne Pivac said: "We're pleased that Gareth is going to be playing Super Rugby, and so are the boys in the Blues. For him it's just a matter of working on his game and further developing his game. He knows what he's got to do and I'm pleased for him."
Kirwan, who has former Highlander Chris Noakes and untried Counties player Baden Kerr as his first-five options so far, has said he believes Anscombe is a player for the future but needs more experience.
Play Jimungo Virtual End of Year Rugby Tours
Compete for prize money and bragging rights in Jimungo Virtual Rugby Tours - our game for all of the end of year international rugby matches. Simply choose the winning team and margin. Sign up now.
- APNZ