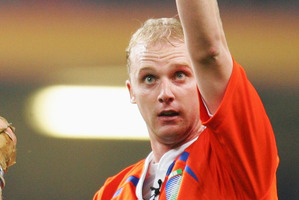 A member of the panel which appointed Wayne Barnes to the infamous 2007 Rugby World Cup quarter-final has responded to criticism from All Black captain Richie McCaw.
McCaw slams organisers in his new book, saying he didn't blame Barnes, but blamed those who appointed the "most inexperienced referee on the roster''.
English referee Barnes left the nation seething after a string of poor decisions which tipped the competition favourites off balance and saw them knocked out.
Former international rugby referee Bob Francis, a former Masterton mayor, was part of the IRB selection panel for the 2007 cup.
He said Barnes had earned the position after refereeing four pool games - including the All Blacks against Italy.
"When we released those appointments they were well received by both teams,'' he said.
"He wasn't the least experienced at all. He was one of the stand-out referees of the World Cup.''
Mr Francis said the captain was entitled to his opinion but pointed out McCaw admits in the book the team could have done better.
"It does say, also, that they performed poorly. Everyone can make a judgement on that,'' he said.
In an extract from his new book, The Open Side, McCaw talks about the team's campaign and their 20-18 loss against France.
"I don't blame Barnes, but I do blame the people who appointed the most inexperienced referee on the roster to a RWC quarter-final between the hosts and the favourites. I thought both teams deserved a referee with experience,'' said McCaw.
"My beef isn't with Barnes so much as with his inexperience. This was Barnes' biggest game by far. On the big stage, an inexperienced referee is likely to become so afraid of making a mistake that he stops making any decisions at all.
"By the end of it, I thought Barnes was frozen with fear and wouldn't make any big calls.''
- with Alanah Eriksen