Delight as Ranfurly Shield returns after five-year absence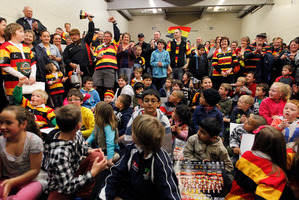 The Waikato rugby side received a raucous heroes' welcome as they brought the Ranfurly Shield back to Hamilton for the first time in five years.
Dozens of people crammed into the warm-up room at Waikato Stadium yesterday to welcome home the side who thrashed Taranaki 46-10 in New Plymouth on Wednesday to reclaim the shield.
The Waikato team arrived at the stadium with the players clapping and singing the local rugby anthem "Mooloo, ole, ole, ole" as fans packed inside to welcome their heroes with a deafening cacophony of cowbells.
The small crowd quickly grew as word got out that the team was showing off the shield.
"The shield and the Super 15 and the Magic with the netball, mate, we're the best," said supporter Mike, who had brought his two sons, Charlie and Jonathon, to see the prize.
Waikato captain Alex Bradley said the win was fantastic for his team and they were overwhelmed by the support at home.
There to greet the team were several former Waikato players including captain Deon Muir and All Black Steve Gordon.
"It just shows from the guys who are here today and that played in the past the history and the memories and how important the shield is for all of us," said Bradley.
He said Waikato All Blacks in South Africa had sent texts and emails to congratulate their teammates.
However, the side did not celebrate for long as they turned the focus on to the match this weekend against Counties Manukau before their first shield challenge against Hawkes Bay next week.
Waikato Rugby Union supporters president Wayne Albiston said the crowds proved that the Ranfurly Shield was a tradition that had not lost its appeal.
"It just shows you that the young people are interested in the Ranfurly Shield."

Play Jimungo Virtual End of Year Rugby Tours
Compete for prize money and bragging rights in Jimungo Virtual Rugby Tours - our game for the end of year international rugby matches. Simply choose the winning team and margin. Sign up now.