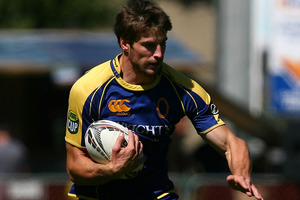 Otago captain Paul Grant has been sidelined for the rest of the ITM Cup with a serious shoulder injury.
Grant (24), the dynamic No 8, left the field at Palmerston North on Tuesday night after just 18 minutes when Otago beat Manawatu 51-35. He was suffering from a blow to his right shoulder.
Otago coach Tony Brown confirmed yesterday that Grant has a dislocated shoulder. It has been diagnosed as a grade 3 AC joint dislocation.
"He'll be out for six to eight weeks," Brown said.
"We're pretty disappointed. It is a huge loss for us. We're not only losing our captain but one of our form players."
Grant, who grew up in South Otago, made his debut for Otago against Auckland in 2007.
He has matured as a rugged No 8 this year and has played the best rugby of his career.
Grant demonstrated his leadership potential by leading from the front when University A rallied in the second half of the club season to reach the semifinals of the Dunedin premier club championships.
The Otago selectors recognised the spark he was bringing to the team and appointed him captain of the Otago ITM Cup team.
He had a positive influence on the University A team and was rewarded by being named the Dunedin Club Player of the Year.
Grant brought this positive influence into the ITM Cup team and it has brought new hope and confidence to Otago rugby fans during the national championships.
The Otago selectors have not yet named a replacement captain or replacement players.
"We're not sure yet. We've got pretty good loosies so we won't need to bring another player in just yet," Brown said. "We've got plenty of cover there.
"As far as the captaincy goes, we'll just have to wait and see who is fit and ready to go on Saturday."
Midfield back Glenn Dickson assumed the captain's role when Grant left the field against Manawatu.
The Otago team has had a tough two games over the past week with two away games against Hawkes Bay and Manawatu in just four days.
They have a few bruises and niggles and will only be able to take light training for the rest of the week before playing Wellington at the Forsyth Barr Stadium on Saturday night.
"There are plenty of niggles but hopefully with a couple days to freshen up and get the body right, everybody should be good to go," Brown said.
"Winning away from home is always tough and to win and (get) a bonus point has set us up nicely heading into the last couple of rounds."
Otago's final two games before the play-offs are against Wellington and Auckland, which are sitting first and third in the ITM Cup premiership table.
It will be a tough ask to win either game so the challenge will be for Otago to accumulate bonus points to get a home semifinal in the championship section.

Play Jimungo Virtual End of Year Rugby Tours
Compete for prize money and bragging rights in Jimungo Virtual Rugby Tours - our game for the end of year international rugby matches. Simply choose the winning team and margin. Sign up now.