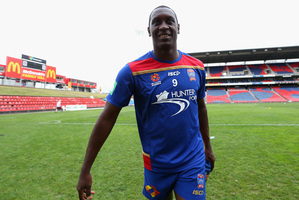 Former England striker Emile Heskey says although Australia wasn't his first preference for an overseas career, he's happy to be part of its growing soccer culture.
Heskey arrived at Sydney Airport yesterday with his partner, Chantelle Tagoe, and their two children to a welcome from media and Newcastle Jets fans.
"It's a new country, a new beginning," he said.
"I told myself if I wasn't going to get a premier league I'd try to play abroad - I've always wanted to play abroad.
"To be fair, Australia wasn't my first destination (choice) when I was younger, but it's a nice destination (and) an up-and-coming football nation."
Heskey was to have his first training session with his new teammates last night, and said he had been keeping as fit as possible during the off-season.
"Training on your own is different to having match fitness. For match fitness, you need games and I think I've had 45 minutes in a training game," he said.
Heskey didn't confirm whether he'd be playing in the Jets' first match against Adelaide United next Sunday.
"We'll see how training goes," he said.
"I've heard it's a bit hot out here - different to Manchester where it's raining every day, but I should be fine."
Richard Shrosbery, from Britain, was at the airport to welcome Heskey.
A Jets fan since he arrived in Australia four years ago, he says the signing of Heskey and Alessandro Del Piero for Sydney FC is a huge boost for the A-League - but that Heskey will have the bigger impact.
"What he brings to the Jets is his height and power and experience," Shrosbery said.
"It won't necessarily be 20 goals a season from Heskey, but he'll be involved in everything in that final third of the pitch.
"Everything will go through him, and the young players will learn so much from him."
- AAP