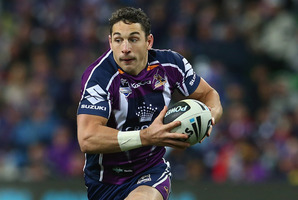 Fingers crossed that tomorrow night's NRL grand final contains at least one doozy of a mistake by the video referees.
"Our great game", as the commentators love to call five-tackle-kick, has been taking itself far too seriously of late and the video botch-ups have proved the perfect tonic.
Of concern, there are killjoys about, like the Canterbury Bulldogs captain Michael Ennis, who reportedly (or purportedly) hopes more mistakes do not ruin rugby league's big day. Hey, Michael, if a dud ruling helps your Bulldogs beat Melbourne, get back to us then.
The bug is catching. All of America (purportedly again) is up in arms because replacement referees are ruining NFL football during an officials' strike. If America puts this much energy into reducing poverty, Harlem will be dining on foie gras.
Boiling point arrived this week with a result-turning decision enabling Seattle to beat Green Bay. The winning, last-gasp touchdown involved undetected pass interference that almost put a Packers' defender into a grandstand. Seattle ended up with as much grip on the ball as Charlie Sheen has on reality.
At first look, or 100 looks, Seattle had as much chance of being awarded the touchdown as you have of getting all tax back. But the referee's video review could not overturn the decision because a) he was not allowed to rule on the interference, and b) A equals 12 minus your age times the number of apples in a barrel over six. This has gone all the way to President Obama who, having struggled to save the world, is taking on the even tougher task of saving us all from stupid referees.
The NFL is trying to act concerned, although the controversies have won them publicity that money can't buy. Every column centimetre on the subject has planted football deeper into national life. Drawing a presidential comment is PR gold.
Australian league is a quick learner. Debating and analysing the rugby league video stuff-ups can take up most of one's week, especially when combined with supporting all of the NRL's charities.
In the latest video-review disaster, Melbourne ace Billy Slater was awarded a try even though the gap between his arm and the ball was so big that it looked like an Eden Park rugby union crowd.
In a previous game, the Sea Eagles were awarded a try even though their playmaker Kieran Foran whacked the ball forward with his hand.
The debacle has reached a point where even Brad Fittler is starting to twig that something might be amiss. Next Wally Lewis will start to notice.
Tossing a coin would be a better accuracy bet, except this would place the NRL referees in the tricky position of working out heads or tails.
The harder they try, the worse it gets unless you understand the publicity deal. This failure of the forensic approach has reminded us of two things - how O.J. Simpson got off and that there is no such thing as bad publicity.
So the NRL must pretend to make sure the grand final emerges unscathed. A leading referee named Shayne Hayne has been yanked off the field and plonked in the video review box and his mate Chris Ward designated as the button pusher.
Rumour says a flag-draped Phil Gould, rugby league's Superman, will deliver a stirring pre-game speech to the video refs. As requested by Hayne, their chips will be only lightly salted. Ward has won an assurance that Hayne won't blow his whistle all the time.
This will all be in vain. The grand final will end with a bang, as sure as iconic TV commentator Ray Warren loves "our great game".
Horror headlines, Twitter overload, pain, ecstasy, and a statement from the Aussie Prime Minister's office will ensue.
Delta Goodrem will be forced to comment. Hayne and Ward will never speak again. Gould will be beside himself.
A push of the wrong button will change lives, forever.