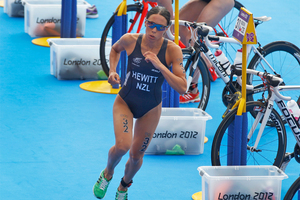 Andrea Hewitt will make her return to ITU racing tomorrow when she competes in the Yokohama round of the ITU World Triathlon Series in an attempt to set herself up for the title of world champion to be decided in Auckland next month.
Hewitt took a small break after the London Olympics and is still ranked second in the series behind Australia's Erin Densham. The title will be decided at the final event on the 2012 calender, the world triathlon grand final in Auckland over Labour Weekend.
A number of the world's best triathletes will also race in Yokohama in a last-ditch attempt to earn points before the Auckland race.
Hewitt, who has a good record in Japan having won in 2011 and finished runner up in 2009, will be joined by fellow Olympian Kate McIlroy in a strong women's field and Kris Gemmell is the sole Kiwi in the men's race. He's currently ranked 16th in the world.
"This is my second time in Yokohama after finishing on the podium last year," McIlroy said. "I returned home from Europe three weeks ago, pleased to be back training on my usual stomping ground with home comforts. The Auckland world champs is the main focus over this next block but I am keen to have a good result this weekend.
"The conditions here last year were very hot and humid making the run incredibly tough. Hopefully, it will be a good sharpener and confidence booster leading into the last race of the season in three weeks' time."
- APNZ