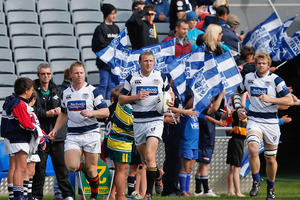 Auckland Rugby looks likely to make a drastic move out of Eden Park in a bid to cut increasing costs.
While they sit atop the ITM Cup Premiership ladder, Auckland's crowds have been disappointing this year, with less than 8,000 showing up for Saturday's win over Wellington.
Despite that, crowds are up on last year.
But CEO Andy Dalton says those poor numbers mean they're eyeing temporary options.
"I think there is an opportunity to look at Waitakere, the Trusts Stadium, up there for a mid-week game and that's something we're having a look at right now for next year."
The 50,000 capacity Eden Park stadium, which underwent a $256 million redevelopment for last year's Rugby World Cup, provides little atmosphere for ITM Cup encounters.
Dalton says Sky Television would have to give it the go ahead before it can be locked in.