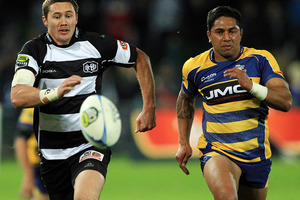 Hawke's Bay 42
Bay of Plenty 41
What a thriller. Replacement inside back Ihaia West scored after the final hooter to give Hawke's Bay an impossible victory over Bay of Plenty in Napier tonight.
Bay of Plenty went into the game with form advantage and two days extra rest over Hawke's Bay, crushed by Southland on Sunday. The schedule is taking a toll - entertainment was high but overall concentration and effort on defence low in the battle between two early season premiership stragglers.
Still, in this case the entertainment won handsomely, two penalties giving Hawke's Bay the late chance which they took in spectacular style for a 42 - 41 victory.
Hawke's Bay wing Gillies Kaka's third try, which started with a West mis-kick on his 22 metre line, brought the crowd into full voice and helped turn the tide which had mainly been running slightly Bay of Plenty's way.
Young Penikolo Latu caught the eye with a couple of bone crunching charges, but it was right wing Kaka who came up with a stunning try to raise Hawke's Bay spirits in the first half.
Receiving the ball near his 22 metre line, he charged past three tackles and produced some soccer-type skills at the end to beat Lelia Masaga to the touchdown, helped along the way by some poor goalkeeping-type work from wing Maru Henry.
Still, Bay of Plenty always looked the better organised and Hawke's Bay the more fragile. This was evident in the Steamers reply, a Nick McCashin try.
With Bay of Plenty looking to go into halftime with a solid 24 - 11 advantage, the Magpies delivered a double whammy helped by referee Mike Fraser. A lineout drive drive delivered a penalty try, and Fraser decided that Bay of Plenty captain Tanerau Latimer also deserved a yellow card for pulling the maul down.
Horrible defence and a terrific Masaga run brought Bay of Plenty an early second half response to Fraser's tough ruling, giving them a 31 - 18 lead, before Hawke's Bay turned on the sparkle with an immediate response through Kaka.
Hawke's Bay 42 (G. Kaka 3, T. Fomai, I. West tries, penalty try; D. Waenga 2 pen, con, I. West 2 con) Bay of Plenty 41 (S. Cane, N. McCashin, M. Henry, L. Masaga, P. Burleigh tries; N. McCashin 5 con, pen, C. Noakes pen) Halftime: Bay of Plenty 24 - 18.
- APNZ