Erudite enthusiasts say World T20 success in the hands of two batsmen.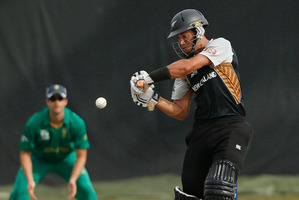 It is perhaps not the most scientific method of predicting the secrets to the New Zealand cricketers' fortunes at the World T20 but, if staff members at the Serene Grand Hotel in the Sri Lankan highlands are any gauge, any success relies on Brendon McCullum or Ross Taylor being at its core.
When interrogated by the Herald on the eve of New Zealand's first game against Bangladesh in Pallekele, Prasad, Thilanka, Kumar and Roshan (all self-confessed cricket tragics) produced the names McCullum and Taylor quicker than those players can latch on to a juicy half volley outside off stump.
It might be a straw poll but the gut feeling of our erudite Sri Lanka quartet is unlikely to be far from the truth.
McCullum and Taylor seize imaginations in the sub-continent, after demonstrating their batting power on arguably a bigger Twenty20 stage than this one in recent years; the Indian Premier League.
McCullum is six days shy of his 31st birthday (September 27) and is starting to show the premature ageing that comes from years of wicketkeeping.
His precautionary omission from the early part of the West Indies tour was an obvious sign. He will be conscious that despite glimpses of brilliance, he has no silverware from international tournaments since debuting for New Zealand in 2002.
To be fair, New Zealand has come close, like when McCullum led the side in the 2009 Champions Trophy final in Daniel Vettori's absence.
McCullum's most recent T20 international innings ( 91 off 55 balls in the recent one-run win over India) bodes well, but he must turn around some disappointing form against major test-playing nations in previous T20 and ODI World Cups.
Speaking after that India win, McCullum's modus operandi remains resolute: "It's never nice when you lose a couple [of wickets] early but the brand of cricket we're trying to play means it is sometimes going to happen like that. We've got some dominating batsmen who are sometimes going to miss out early. I know that's the brand of cricket Mike [coach Mike Hesson] and Bob [batting coach Bob Carter] want us to play so we put the opposition under pressure ... there's no reason why we can't be at the business end of the tournament."
Few should doubt that. Heading into the 2011 50-over World Cup, New Zealand had lost their last 11 ODI matches on the subcontinent, including four to Bangladesh in late 2010. They went on to make the World Cup semifinals for the first time in that part of the world, the only non-Asian team to do so.
Their form has been a little different this time. They have lost seven of their last eight ODIs and four of their last six T20 matches.
That is where the mercurial qualities of Taylor are important. The 28-year-old can lead by example, as demonstrated by 131 off 124 balls at last year's World Cup to obliterate Pakistan in pool play.
That was played in Pallekele, which is New Zealand's home for the group stage of the World T20 (and the Super 8 stage if they make it through from the treacherous pool D against Bangladesh and Pakistan).
On his 27th birthday Taylor split his innings into 76 runs from 111 balls and 55 from 13. That surreal baker's dozen off Shoaib Akhtar and Abdul Razzaq produced four fours and six sixes.
He has underlined that power in the warm-up match this week against South Africa. He made 75 off 42 balls against world-class pace bowlers like Dale Steyn and Morne Morkel.
What might be reassuring for Taylor in the T20 format is that despite his effort against South Africa coming at a strike rate of 179, he only has the sixth highest rate (117 runs per 100 balls faced) of the recognised New Zealand batsmen in the squad.
Certainly there is more to mastering the T20 game than strike rate - quick singles, partnerships and restraint from trying to put everything into the nearby tea plantations come to mind - but it is another reason to underline New Zealand's potential.
Taylor acknowledges this format of the game can be fickle.
"It's pretty hit and miss. It was just nice to hit a few out of the middle [against South Africa].
"We're in a tough pool so hopefully we can replicate some of our [2011] World Cup form."
As for the other four votes from our fanatical Sri Lankan foursome: Daniel Vettori took two, Jacob Oram one (presumably after his recent Sri Lanka Premier League heroics with Uva Next) and Jesse Ryder also took one, although he's probably not much help in the current circumstances.
Andrew Alderson flew to the Twenty20 World Cup in Sri Lanka courtesy of Emirates Airline (www.emirates.com/nz).