The lakeside tourist trap, with all its sporting distractions, has been a bit of a rugby no-man's land.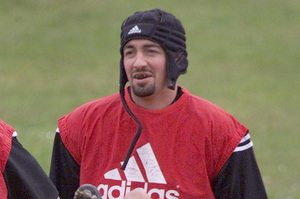 Dion Waller. File photo / Kenny Rodger
Taupo. Beautiful spot, fresh air, plenty of sport.
But sometimes the surroundings don't translate into success or, more particularly, rugby achievement.
Dion Waller and Lee Stensness were the last men from the area who ascended to the All Blacks, but that was more than a decade ago.
Taupo embraces visitors but it houses a transient population, many who are there for the sport but not for the long haul.
Competing attractions are connected to the snow or water. All forms of skiing and fishing, triathlon, hiking and cycling are high on the to-do list.
Talented children who inhabit the town or nearby rural areas are cherry-picked for rugby by city schools or lose interest.
They might leave for Rotorua, Tauranga or Hamilton, says Josh Standen, King Country's development officer.
"The hardest part is keeping these kids because when they do well up to Roller Mills, boof, they're gone to the bigger schools," says Standen.
No 8 Rory Grice used to be in Taupo with the under-16 rep side but was now involved with Waikato.
"The hardest part is that King Country is a Heartland union and he won't come back to a club team in our region because it's not up to standard for him to push on.
"Their pathway is an ITM Cup team whereas ours is a Heartland team.
"As a younger guy the pathway is here, play the Heartland and then get up to the ITM Cup. But you try and tell impatient young men about that.
"They want to find out for themselves or think they are better than they are.
"It's great to have ambition but the reality is that a professional rugby career does not happen to many kids. A low percentage of kids go on to play professional rugby.
"Young men push off to study in the cities and unless someone is in a trade or farming, the chance of holding on to them is very slim. We get a heap of kids who play in the King Country under-18 side but then they disperse."
So what sort of impact did the Chiefs' triumph have?
The game's profile was better and getting stronger, while the World Cup helped that too.
The Chiefs made a road trip through the province and trained, held clinics and stayed in Te Kuiti and Taupo.
But Taupo was a multi-sport area. Getting kids connected to rugby was much tougher than in the 60s and 70s. Even in the late 80s, Taupo had six rugby clubs but those had now shrunk to two.
New Zealand's sporting demographic had changed.
People moved out of the country into town. Usually.
However Taupo local second five-eighths Thomas Orr had made the Chiefs under-18 development side and the New Zealand secondary schools Barbarians team.
He had been identified as a strong rugby talent and an example for those who wanted to stay in their home territory. There was a pathway from the backblocks to the top.
Sam Cane's selection had helped. He went from Reporoa to Tauranga for his last year at school but showed a country boy could still make it.
"I get to coach these sorts of players and it's a real buzz to have touched that kid and put them on the road before they go away to get more help at college," Standen said.
"We have set the foundations for these kids, identified them and helped them.
"Identifying those kids who have the rugby ability rather than just size is the tough task. There is also the background dossier on their schoolwork and what they are like at home."
Standen is into his seventh year working for King Country. Much of his time is spent in the field and he says some of the 13-year-olds he spotted are now moving into the Rams side.
The Rams were a feeder union for teams. That was life.
"If they come back as a player of origin for the Rams fine, but if they want to go and further their degree or rugby career we're not going to stop them, that's the way it is.
"Players will go, it's like the drift to cities. I did it, went to Hamilton Boys' High in 7th form and then you come back home.
"Others do the same and that is a positive for rugby."
Heartland roadtrip
Tuesday: The Super 15 triumph was not the only pleasant surprise in Chiefs country this year.
Tomorrow: To the mill town of Tokoroa, where breeding internationals is par for the course, and we catch up with a man who once called Putaruru home.