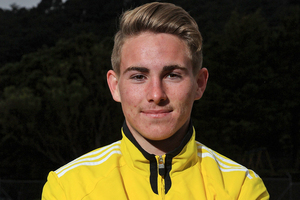 Tyler Boyd. Photo / Getty Images
All Tyler Boyd has ever wanted was to become a professional footballer. Yesterday his dream came true when he signed a three-year professional contract with the Wellington Phoenix.
The Waikato 17-year-old was last night presented with his No 12 shirt at the Wellington Football Hall of Fame Evening awards in Wellington, and at training earlier in the day he was still coming to terms with what he has achieved.
"From as early as four-years-old I had made my mind up that I wanted to be a footballer," said the former Waikato FC and Melville United striker.
"What has happened in such a short time is amazing, and I still find it hard to believe that I'm now part of the squad along with the likes of Paul Ifill, Mark Paston and Andrew Durante."
The softly-spoken youngster was part of the first intake to the Phoenix' Football School of Excellence, and the first to be given a professional contract.
It was less than three months ago that Boyd and seven other young players arrived at training starry-eyed and full of hope, knowing there was the possibility two of them could get contracts.
Even then there was a steely determination about the youngster.
"I had my eyes set on one of those spots," Boyd says.
"I was lucky enough to score a few goals early in the piece and that helped my confidence.
"Now that I've been given a contract it's up to me to continue training hard and doing what the coaches tell me."
Boyd, who can play up front or out wide, said he had many people to thank for getting him this far.
"My mum and dad (Sherry and Ric) have been behind me every step of the way," he said.
"They have driven me all over the place and have watched virtually every game I've played in.
"I owe them so much for the way they have believed in me.
"Ricki (Herbert) has been fantastic and I'm so grateful that he saw the potential in me. He's taught me a lot already and there's a lot more to come.
"I would also like to thank the Wellington Phoenix owners for setting up the School of Excellence.
"Had they not had the vision to set it up none of us (young players) would have had such a fantastic opportunity."
- APNZ