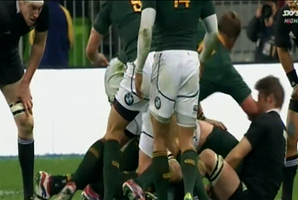 Dean Greyling's flying attack at Richie McCaw's unprotected head was bad enough, but unfortunately the madness hasn't ended there.
To compound an already appalling incident during Saturday's Rugby Championship match in Dunedin, Sanzar have seen fit to ban the replacement Springboks prop, who was yellow-carded on the advice of an assistant referee, for just one match. Officially it is a two-week suspension, but with all four teams having a week off he will miss only the match against Australia in Pretoria.
To recap, Greyling, in attempting to "clean-out'' McCaw, leapt over a ruck and connected with the All Blacks captain's jaw with his forearm. McCaw is becoming used to such attacks to his head but even he looked shocked by the reckless nature of it.
Seconds earlier he received a shoulder to the head from another South African.
It's a wonder he managed to get to his feet afterwards.
It is hard to put such a soft penalty into perspective, but by way of comparison, Greyling's teammate Even Eztebeth received the same sanction after being found guilty of striking Wallabies lock Nathan Sharpe the previous weekend in Perth, which resulted in lock Eztebeth missing the Dunedin match.
Eztebeth made to headbutt Sharpe but barely touched him - it was more of a threat than an attack.
Both incidents were cited because they were deemed to have reached the "red-card'' threshold. One was clearly more serious than the other and yet both received the same sanction.
In a so-called enlightened age in which head injuries in sport are becoming more of a concern, such a soft line from Sanzar is difficult to stomach.
Perhaps the only good thing to emerge from it was the strong condemnation from the Springboks camp to Greyling's attack.
"I am very big on discipline and it is unacceptable,'' coach Heyneke Meyer said. "I think it cost us the game as well.
"I want to apologise to Richie and we will deal with it in-house [as well], but it is unacceptable.''
Not that unacceptable, it seems.
- APNZ