Cathrine Latu has to work hard to dislodge Irene van Dyk for the Silver Ferns' GS bib, writes Michael Burgess.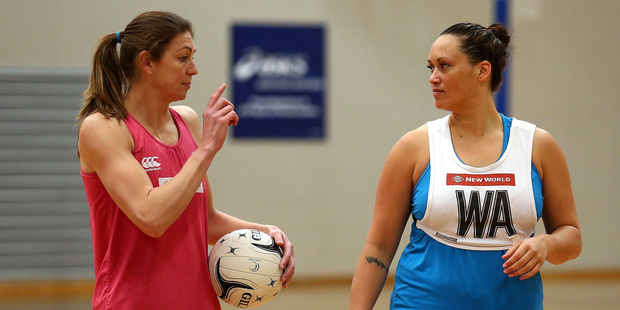 From a New Zealand point of view, one of the end goals of this Constellation Cup series is a Cathrine Latu comeback.
Irene van Dyk will start in today's test in Melbourne but hopefully Latu can have an impact across the three matches.
This time last year, Latu was more than just the heir apparent to the Ferns GS bib; it felt that van Dyk was being edged off her throne.
After starring for the Mystics on their run to the grand final, Latu shared time with van Dyk against England before starting against Australia in Adelaide. Defenders struggled to combat her physical approach and her star was on the rise.
In contrast, van Dyk had endured a difficult season with the Magic, then got outpointed by the Australian defenders at the world championships in Singapore. She looked vulnerable and unsure. The writing wasn't quite on the wall but questions were being asked.
A year on and everything has changed. Van Dyk was irrepressible in the Magic's incredible charge to the title, particularly across the last pressure-packed month of the season, with franchise coach Noeline Taurua describing her as "better than ever".
The 40-year-old told the Herald on Sunday last month she was aiming for the 2014 Commonwealth Games and possibly the 2015 world championships, which suddenly seems realistic.
Meanwhile, Latu is trying to bounce back, after a disappointing end to the season with the Mystics. She was successfully shut down in both play-off matches and was almost a peripheral figure in the preliminary final against the Magic.
"That was a learning experience," says Latu. "It was obviously a difficult time, especially since we worked so hard. We do joke about how heartbreaking it was but I guess all you can do now is laugh."
This year, Latu didn't seem the dominant figure of past seasons. She put up just 403 attempts (converting 393) compared with 482 shots and 449 goals in 2011.
Latu remained deadly accurate but wasn't as intimidating as previous seasons, often struggling to find space in the circle.
"At this stage, Irene is probably slightly ahead in the pecking order," says Taumaunu. "Probably in my mind she came in ahead [after the ANZ Championships] though I hadn't thought of it like that at the time. In the past few weeks and at trials, Irene's shooting is probably a little bit more accurate."
So what will Latu have to do to grab the No1 spot?
"Shoot more accurately," says Taumaunu matter of factly. "Then it's around combinations inside and outside the circle.
"Irene probably has the stronger connection with Laura [Langman] and given she is the dominant midcourter that connection is reasonably noticeable. However, Cathrine has a very good combination with Maria Tutaia."
The door is hardly closed on Latu - the Ferns have a lot of matches this year and will experiment with different combinations - but expect to see Van Dyk in the big matches against Australia. For her part, Latu shrugs off talk of the duo's duel.
"There isn't a battle," says Latu. "We respect each other enough to push each other to the limits and question each other's skills or what we are doing. I'm learning a lot from being around her and watching her from a team-mate point of view. We are fighting for the same spot but we also have very different skills and abilities."
Latu's debut had been a long time coming, after a four-year stand-down period that expired after the Singapore tournament. She still has time on her side but turns 28 next month so won't want to wait forever.
The ideal scenario for Taumaunu, for this year and beyond, is to have two interchangeable shooters. Under Norma Plummer, the Diamonds regularly switched shooters, even in big matches (it was a successful strategy in both the 2007 and 2011 world championship finals).
Using a shooter in an impact role hasn't traditionally been part of the Ferns' game plan but it may be soon. It can be a handy tactic to break up defensive patterns, especially as the Australians can employ Laura Geitz in a roving role while their other defenders are more traditional, man-on-man markers.
"I have never seen Latu as a player that has to start," says Taumaunu. "We have used her in practice matches as an impact player and I've never hesitated to use her as an impact player. I guess the challenge is around her playing the whole four quarters and for me I am more focused on that;making sure she maintains that consistency and ability to run the whole game."
"I need to prepare mentally for anything to happen whether I start, come up when we are up by 10 or down by three," says Latu.
"It's not easy to come on but I just need to keep learning."