Israel Dagg has to make surprise and timing his test weapons.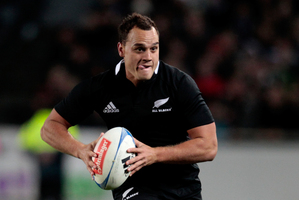 Chilled is probably the term Israel Dagg would use to describe himself.
For him the connotations are right on. He appears unruffled as he wanders around the All Black environment or goes about his daily business.
Keeping appointments might give him some grief and you suspect there have been times when management wanted to tighten his blithe approach.
A bit like Christian Cullen. Perhaps it's a fullback thing.
Their link is sacksful of natural ability and instincts for the game which rise as the battle intensifies. They are special players whose skills need to be guided rather than redirected.
Israel Jamahl Akuhata Dagg has played 18 tests and lost just once - against South Africa the last time they met in Port Elizabeth last season. It was a watershed test for the young fullback, who was back after tearing his quad muscle from the bone.
Months out of action had not dulled his instincts. It was his shot at the World Cup, a sudden-death fitness trial for the young man in only his seventh international.
"I was under pressure, I was not match fit but I just had to have a go with no expectations. I got the chance and luckily it came off."
Dagg is someone whose play reflects his emotions. That graph is on the rise after a range of blips during the Super 15 series.
"It is getting there. It has been one of those tough old years getting myself right mentally when the footy hasn't been going my way.
"Maybe I have been a bit too hard on myself, putting pressure on myself, and maybe a bit of the public expectation got to me a bit. I dunno."
When Dagg gets into the All Black group he is able to blank out those issues. He admits he has not yet learned to cope to the same extent in the Super 15.
With the All Blacks, each player is encouraged to do his own job knowing others around him will all deliver high-range work.
Injury and fluctuating fortunes had not given Dagg that same sense of security in the Crusaders but that was an issue he had to address. And he has recommitted for the next two seasons with the Crusaders to show that intent.
"I was just trying too hard to produce those miracle things that people want to see," he suggested. "Maybe I was pushing the pass one too many or not backing myself - I'm not too sure.
"But in this environment, things start to click and guys really get you up and it is something I have to learn to take back to the Crusaders for sure."
The All Blacks encourage Dagg to showcase his gifts but within their framework. He has to pick his moment and be the feline ready to pounce.
Surprise and timing have to be his weapons in tests where those elements make the difference between good and excellent matches. It could be tonight, it depends on how the test unfolds.
Dagg started his professional career in this southern city playing two years for the Highlanders before he moved north.
"It was a weird old time. I was a bigger boy getting caught up in the Dunedin lifestyle. It was cold here too so there wasn't so much sweating when you were running. Under this roof should be great, can't beat it, dry as. It's a bit of me."
It will be much better than Wellington. "That was tough. The ball would be here then it would swing wildly away. CJ (Jane) and I were joking 'it's yours ... it's mine ... '. That's rugby. No excuses this weekend."
His Springbok opposite, Zane Kirchner, liked to run and use high kicks. He would be a threat and Francois Houggard on the wing as well.
"But if we get our game going we have the stage to play on," Dagg said. "We can put teams away. It is those one per centers, if we get those right we will blow teams away."
Israel Dagg has had a good run in tests, losing only once. Photo / Brett Phibbs