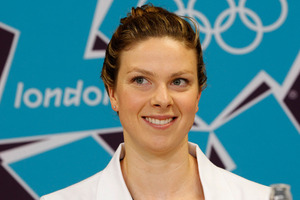 Lauren Boyle has two steps to negotiate in her swimming career, one small; the other substantially larger.
The Commonwealth Games are in 2014 in Glasgow. New Zealand's best swimmer is fully committed to that challenge.
Then, nestling at the back of her mind are the Rio Olympics in 2016. She's keen to go, but four years seems a small eternity away.
For that reason she's reluctant to fully lock her sights on Rio right now; so it's one step at a time.
Of one thing you can be certain; in time Boyle has other paths she wishes to travel away from the pool, but if she presses the go button on Rio it will be done with total, unswerving commitment to finish her international career on the best possible note.
The London Olympics showed the 24-year-old freestyler what might be possible, she's in the form of her life, and when it comes to making her Rio decision, those factors will carry considerable weight in her thinking.
She wants to do things bigger and better than she's ever done; and part of that is having appropriate sponsorship to ensure she can do everything just right in the pool and help propel her towards making a success of life out of the water.
A quick recap. Boyle was New Zealand's standout swimmer in London.
She broke three national records in the 400m and 800m freestyle, made the finals in both events, finishing eighth in the shorter distance and fourth over the 16-lapper, where she was just two seconds off the bronze medal. Had she produced her heat time of 4min 03.63s in the 400m final, Boyle would have finished fourth there too.
After the second final, Boyle was overcome with emotion. Tears of delight flowed as she savoured the moment.
She was the first New Zealand woman into an Olympic final for 16 years; another record time and the reality that, after years toiling away she had revealed her true swimming self.
So six weeks on, and after a few days holidaying with friends in Germany ...
"I'm really enjoying it, since coming back from the Olympics and realising now I'm right there," she said.
"Before, I wasn't. It makes me just want to keep going and enjoy what I've set myself up for."
Since returning from the United States in May last year, armed with a Bachelor of Science and Business Administration from the Haas School of Business at the University of California Berkeley, Boyle dedicated herself to swimming, to a greater degree than she'd ever done. The results of totally immersing herself were shown in London.
"As kids you set goals and you don't understand what it takes to get anywhere close. I always remember when I was little, with every birthday candle I blew out I wished to go to the Olympics.
"Even when I was 16 I didn't understand what it took to be really committed to the sport."
Her regime with national coach Mark Regan has helped unlock her potential. She is an unabashed admirer of the methods of the straight-talking Australian.
Boyle pointed out that during her time in California working with American national women's coach Terri McKeever, she didn't post one personal best time. McKeever helped her immensely as a person; Regan has done the trick in the water.
"Making that decision to come back and swim with him was really the beginning of believing what I might be able to achieve.
"Terri kept me in the water and made me enjoy it; all my improvement came when I returned and swam with Mark. The flipside is if I hadn't gone and swum with Terri I wouldn't be swimming now.
"Mark takes no bullshit. There are rules and you do what he says. If you don't like it, think it's boring or too hard you leave. Then you're left with a little group who aren't taking any short cuts or easy ways out."
Next up for Boyle is the world short course championships in Istanbul in December, assuming she qualifies in Wellington at the end of this month.
She likes the distance as it helps sharpen her focus on starts and turns. With the shorter straight-line distances you need your wits about you to pick up changes in race rhythm.
For this woman whose inspiration comes from trying to be a high achiever and not settling for being average, it's a fascinating time.
"Maybe I haven't got everything out of the sport that I'm meant to. Maybe fourth (in London) is enough to show me I can be good, but not enough to make me stop and be satisfied."