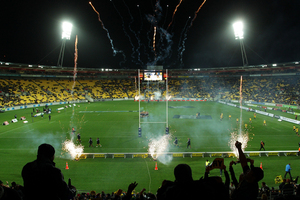 Anzac Day is a major date of the Australian Football League calendar and Wellington will host the first AFL game to be played for premiership points outside Australia when the St Kilda Saints meet the Sydney Swans at Westpac Stadium on April 25 next year.
Pre-season hit-outs have graced the capital before, including when 9000 people turned out to watch a game at the Basin Reserve in 1998, but St Kilda, the AFL and the Wellington City Council have joined forces in a three-year partnership that was officially launched today (Fri).
The St Kilda Saints will play one 'home away from home game' under the inaugural agreement during the next three seasons and the first has special significance.
In Australia, Collingwood and Essendon have played an Anzac Day fixture at the Melbourne Cricket Ground since 1995, in front of crowds of up to 94,000 people, and Saints captain Nick Riewoldt said his club were thankful to be part of the new agreement.
"It's a huge honour. Collingwood and Essendon have had the monopoly on that day and they've done it really well. So to be able to go out and compete and try to replicate the Anzac values - I mean in no way does playing football correlate to fighting in a war - but to be able to go out and honour, not just past people who have represented both of our countries on the battlefield, but people now who are still representing our countries on foreign soil and doing a wonderful job, to be able to go out and pay tribute to that is a great honour."
Riewoldt, 29, said Wellington had the opportunity to show everyone that the AFL should be taken to other offshore locations.
"I suppose this is in its infancy at the moment. But I definitely think that's the goal of the AFL and this is obviously the first step towards that. So if we can make it work and the people of Wellington can get right behind it, our supporters can get right behind it and it becomes mutually beneficial for everyone involved then I can't see any reason why the game won't progress and eventually be played elsewhere. But this is going to be a real litmus test I think so lets see everyone get behind it and make sure it comes off."
Westpac Stadium has a capacity of 34,500, which is the average attendance of an AFL game in Australia and St Kilda's club boasts more than 35,000 members.
The Saints finished ninth this year, missing the top-eight playoffs by eight points but were grand finalists in 2009 and 2010.
Wellington City Council believe the agreement will strengthen transtasman ties and boast the economy in the capital with the expectation that numerous Australians will travel to these shores for the game.
Saints ruckman Ben McEvoy, who stands an imposing 2m tall, said he went to Westpac Stadium today and was impressed with the surroundings.
"We were there this morning and it's spot on," the 23-year-old said.
"The surface is great. We met the curator there and he's doing a fantastic job and they're gutting the rooms in there so they'll be brand spanking new. So it'll be sensational; location couldn't be better, you can nearly walk there from where we will be staying so it'll be a couple of minutes bus ride. It's pretty close to the airport too. Everything stacks up, it's world-class."
Wellington's world-famous wind is likely to remind McEvoy of home too.
"I'm not a huge fan of it but where we train back in Melbourne we are pretty well used to it."
- APNZ