Canberra captain needs Josh Papali'i to repeat last week's demo job on Sharks.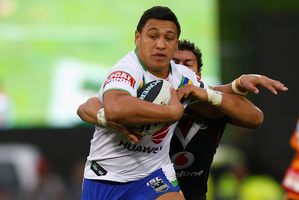 Canberra captain David Shillington says youngster Josh Papali'i doesn't need any advice on how to handle his new status as NRL hit-man and describes the 20-year-old wrecking ball as an inspiration for the Raiders.
After outgunning the best in the business, Paul Gallen, last week Papali'i is sizing up South Sydney monster Dave Taylor in tomorrow's do-or-die NRL semifinal against the Rabbitohs.
Shillington says Papali'i launched a successful demolition job on the Sharks skipper in the elimination final victory over Cronulla, who resorted to griping with the refs.
Against the Rabbitohs tomorrow the task will be big again, but Shillington believes his softly spoken teammate showed last weekend that he knows what it takes to win a one-on-one battle.
Papali'i is already being compared with Canberra and New Zealand great Ruben Wiki, but Shillington isn't concerned the Auckland-born forward will be affected by the hype.
"He probably doesn't need words of encouragement anymore, Joshy," Shillington said. "I found him inspirational out there.
"He challenged the opposition and got the better of them.
"I know he'll get a lot of belief and confidence out of that."
Queensland Origin star Taylor leads the NRL for line breaks and tackle breaks, but Papali'i also features in the top 10 in both statistical categories.
Taylor ran riot over the Raiders the last time they played in May - also at ANZ Stadium - scoring two tries, as did star fullback Greg Inglis in a 36-18 thumping.
Targeting the duo will be key to going another week into the finals race.
"Dave Taylor's pretty hard to stop," Shillington said.
"If he's not running over the top of people, he's putting over the chip kicks.
"So hopefully Joshy puts his shoulder in there."
Shillington said it was a huge boon for the club that their youngsters had stood up when it counted, with halfback Sam Williams also delivering one of his best games of the season against the Sharks.
According to the bookies, the Rabbitohs are $1.43 favourites over the Raiders, despite last week's heavy qualifying final loss to Melbourne and a 25-year drought of finals success.
But Shillington backed the bookies' take on things, arguing Canberra, who've lost centre and goalkicker Jarrod Croker to a fractured cheekbone, have much to improve on before the Souths clash.
"We were lucky we got away with [the Cronulla win] in a way. We turned over some ball in our half and our defence was sloppy at times. At the moment I still feel under a lot of pressure to lift our game.
"But if we can fix up a few things from the weekend and have a win, then I'll start getting a bit more excited."
- AAP