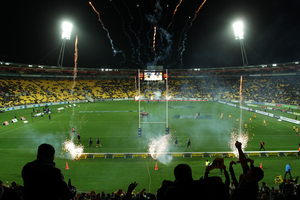 Wellington will host the first AFL premiership match outside Australia when St Kilda Saints play the Sydney Swans at Westpac Stadium on Anzac Day next year.
The Wellington City Council, St Kilda Football Club and AFL today signed an agreement for the city to be a "premier partner" of the Saints. It will allow it to host "home-away-from-home games" each season.
"AFL is a massive part of Australian culture, a billion dollar industry, and it's coming here. This is a great new event for the capital," Wellington mayor Celia Wade-Brown said.
Councillor John Morrison, who travelled to Melbourne to sign the agreement on behalf of the city council, said: "Wellington has hosted very popular pre-season matches before, with 9000 heading to the Basin in 1998, but this match really counts."
Ms Wade-Brown said the partnership would strengthen cultural and tourism ties between the countries.
- APNZ