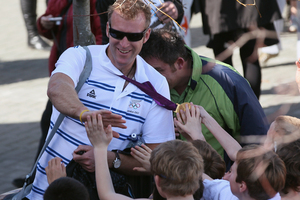 Rugby supporters at the All Blacks v Springboks test in Dunedin on Saturday will get the chance to celebrate the achievements of New Zealand's Olympians at halftime.
Ten Olympians, including gold medal winning rowers Mahe Drysdale, Hamish Bond and Joseph Sullivan, will be welcomed to the field in an acknowledgement of their achievements in London.
"Our Olympic and Paralympic athletes have succeeded on sport's greatest stage and all of New Zealand should be proud of their achievements so we're really pleased to provide this opportunity for Otago sports fans to celebrate their success," said New Zealand Rugby Union chief executive Steve Tew.
New Zealand Olympic Committee secretary general Kereyn Smith said: "Our athletes made us all proud at London 2012 and we're delighted so many New Zealanders can share in their success."
The Olympians are: Hamish Bond, Peter Burling, Mahe Drysdale, Juliette Haigh, Rebecca Scown, Alison Shanks, Joseph Sullivan, Peter Taylor, Storm Uru and Sarah Walker.
- APNZ