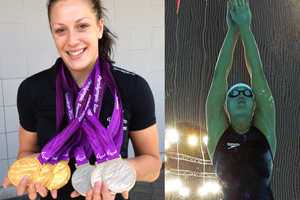 The New Zealand Paralympic team have arrived back in the country after a successful Games in London.
More than 150 fans greeted the team at Auckland International Airport this morning.
The team won 17 medals at the Games, just short of their target of 18 and two medals shy of the team's record tally of 19 at Atlanta in 1996.
Swimmers Sophie Pascoe and Mary Fisher led the way, with Pascoe bagging six medals and Fisher winning four, with cyclist Phillipa Gray and her pilot Laura Thompson winning three.
15 of New Zealand's 17 medals were on display at Auckland Airport today.
Pascoe, with her six medals around her neck, was greeted by her sister and uncle and a big media contingent. She departs for Christchurch on Thursday.
The 19-year-old took her Olympic medal tally to 10 after winning three gold and a silver in Beijing four years ago.
"It hasn't really sunk what I have achieved yet. It probably won't for a few more days until I finally settle down. It's been so full on for the last two months," she said today.
Pascoe said London really showed their support for the Paralympics with impressive crowds at every pool sessions.
"It was a sellout crowd every time I was in the pool and to walk out to a hyped up atmosphere was amazing. We never had a Paralympics sellout crowd before and I think it was amazing what Great Britain had achieved.
"We train exactly the same as able bodies and you can see by the outcome of 17 medals, our hard work has paid off.
"I haven't finished in the water yet. You'll be seeing me in another four years."
- nzherald.co.nz