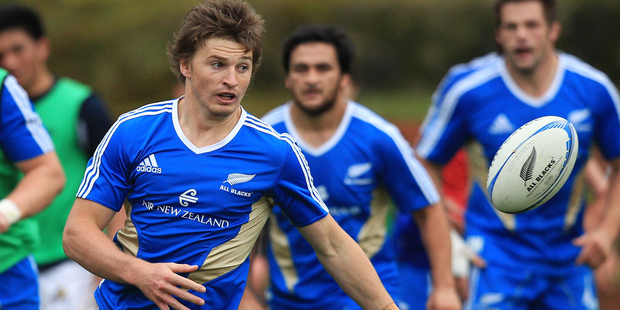 New All Blacks' first five-eighth Beauden Barrett is just like any excited youngster going to the test on Saturday.
The only difference is the 21-year-old will not solely be a spectator.
He is likely to get some playing time, if not from the kick-off, then at least coming off the bench, backing up Aaron Cruden.
Barrett is clearly lapping up the All Black regime. He has that appearance of the kid getting the keys to the candy store.
"I'm excited, can't wait for the weekend. It is another big test for us this week. The Boks will be hungry for the win. They will be very keen," he said.
Barrett was with the All Blacks for the Ireland series and then trained with the squad at the start of the week before the tests against Australia.
But with Dan Carter laid low with a calf problem, Barrett has to now know the ins and outs of the job of guiding the side round the park.
"It is just about me knowing the roles and preparing to play each week.
"That is about all I can do really. It's going to be cool, playing here in this fridge against the Springboks team. I have grown up over the years watching Springbok tests."
The two sides will not even be in the same city until Thursday morning, with the Springboks training in Auckland before flying south early on Thursday.
But Barrett is fully aware of what the South Africans will bring.
"Playing them in Super 15, they are always physical and always good encounters. It is something I'm looking forward to."
One thing which should work in the All Blacks' favour this week is the roof over the ground. Last week in Wellington, wind and rain made it a difficult for the All Blacks to move the ball, with Barrett getting on to the field in the dying minutes of the game.
"Conditions in Wellington were not that easy. But it will be different this week in an indoor stadium.
"They should be a lot of running rugby for sure."
The All Blacks got their first taste of the pitch at Forsyth Barr Stadium with a training run at the ground this morning.
The side was supposed to train at Carisbrook but with wind and hail lashing Dunedin opted to head under the roof.
Injured All Black lock Ali Williams was put through some training drills under the watchful eye of All Black coach Steve Hansen at the stadium.
Williams had an operation on a knee after the second test against Ireland in June and has yet to return to the playing paddock.