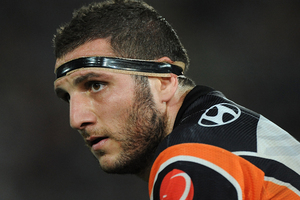 NSW Premier Barry O'Farrell says he'll ask the federal police to investigate after rugby league star Robbie Farah was subjected to vile abuse on Twitter.
The Wests Tigers and Origin hooker, whose mum died in June, was targeted by an internet `troll' who posted a disturbing, sexually explicit tweet about his mother on Sunday night.
It prompted an instant backlash online, with Farah's supporters lining up to condemn the abuse, which was posted using the Twitter handle @maxpower118.
Mr O'Farrell weighed in as Farah's supporters demanded action.
"Shouldn't matter who target is - completely unacceptable,'' the premier tweeted.
"Will follow up & happy to work with Feds to stop it.''
Farah himself responded to maxpower118, saying he'd `rip his face off' had the abuse been said to him in person.
It appears the @maxpower118 account, which used a skull-like face as a profile picture, was deleted soon after the row erupted.
The incident comes shortly after Sydney-based actor Charlotte Dawson, 46, was rushed to hospital after being subjected to a torrent of internet abuse.
Following her recovery, the Kiwi-born actor spoke out about the trolls in a TV interview - and then suffered even more abuse.
Her case prompted fresh debate about possible new laws making it harder to post anonymous abuse online, and the Farah case is certain to spur more calls for action.
A number of abusive tweets have been prosecuted in the UK, where there are laws governing what is said and written on social networking sites.
In April, 21-year-old Liam Stacey was jailed for 56 days after he posted racist 'jokes' about the footballer Fabrice Muamba, who collapsed and neary died during a match.
More recently, a teenager was arrested after he allegedly posted abuse to the British diver Tom Daley.
The teenager was released with a warning.
- AAP