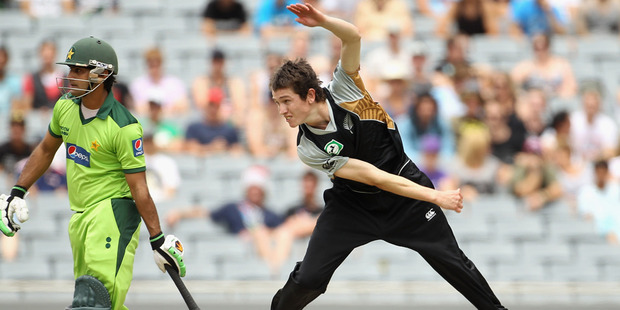 With some size and strength added to his lean frame, Adam Milne seems ready for his return to international cricket.
Picked from near obscurity to play for New Zealand as an 18-year-old in late 2010 after only a handful of appearances for Central Districts, the seamer found the going tough at the highest level as the Pakistani batsmen took to him during two Twenty20 internationals.
Following an up-and-down year and a half that saw him struggle with injury and consistency he has re-emerged as part of the 15-strong New Zealand squad to play India in two Twenty20 matches during the next week before contesting the world championship of the game's shortest form in Sri Lanka.
The right-armer from Palmerston North has never been to India or Sri Lanka before but was picked after impressing in the nets with the national winter development squad and his ability to bowl with a few decent slower balls.
"I don't know a hell of a lot about it. But I'm sure once I get over there the boys will help me out getting in to the swing of things," Milne said before he departed.
"I'd say over the last season and probably since those Twenty20s [against Pakistan], I've worked on adding a couple of different variations to my bowling and just experimented with a few things to change the batsman's thoughts and change from that full pace attack."
Aside from working on his bowling, perhaps more importantly, he has added some bulk to his wiry figure and has got himself back to full steam after ankle surgery earlier this year.
It seems hard to believe Milne has still only played six first-class games and nine domestic one-day games given his talent and how long he has been around the national scene but it gives an idea of how he has found the going tough.
He didn't play football this year - he claimed a Chatham Cup winner's medal with Wairarapa United last winter - and carrying extra muscle is likely to help his recovery and should assist his body to hold up to the rigours of the international game
"It's always frustrating getting niggles and the odd injury. But I guess you've just got to learn it's part of being a fast bowler. You are going to get those, it's just how you manage them and prevent getting them."
New Zealand's two Twenty20 outings against India will be played on Saturday and next Tuesday and Milne knows those games will be his best opportunity to be on Mike Hesson's team list for the world champs in Sri Lanka.
"If I get a crack or two it'll be a great chance to show them what I've got and hopefully I'll have a couple of good performances."
- APNZ