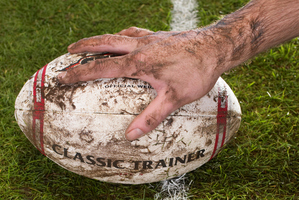 A second match official was attacked when a rugby match between two Auckland schools ended in a mass brawl.
The assistant referee was assaulted at the end of the game between Auckland Grammar and De La Salle College's 2B grade teams last month.
It was reported previously that a spectator punched the 17-year-old referee in the face at the end of the match, won 6-5 by Auckland Grammar.
But last night police said his assistant was also attacked, possibly by two players.
Witnesses said a brawl erupted when supporters of South Auckland school De La Salle invaded the field after the final whistle. Some said a spectator hit the referee, others blamed a player.
Sergeant Janine Ieremia of Glen Innes police said it was believed his assistant was punched on both arms by two people, believed to be players, and also dodged a swing at his head.
He was escorted quickly to a car by parents and later made a complaint to police.
Ms Ieremia said members of the school community were "disgusted" with the incident and De La Salle was co-operating fully.
She said there had been incidents of violence at several school sports matches and if the trend continued then security may have to be arranged.
"Nobody wants to go down that route." Auckland Rugby Referees' Association chairman Don Crawford confirmed that officials knew of the attack on the assistant referee and said the matter was before the Auckland Rugby Union judiciary panel.
Mr Crawford also said De La Salle was co-operating fully.
No one at the school could be reached for comment.
Auckland Rugby Union referee manager Smudge McNeilage said a judicial panel of three would decide the fate of those involved.
The members had not been selected and he would not be drawn on possible penalties.
The hearing would be closed but the outcome would be made public.
- APNZ