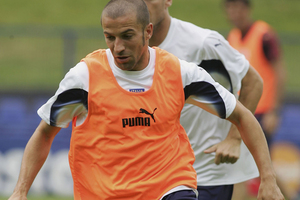 A last-ditch offer from Premier League giants Liverpool has created another obstacle but Sydney FC still remain confident of luring Italian great Alessandro Del Piero to the A-League.
A second day of talks between Sydney FC chief executive Tony Pignata and the player's representatives in Turin failed to reach a resolution to leave the Sky Blues sweating over their bid to sign the 37-year-old forward.
Despite reports a deal with the Sky Blues was as good as done, the club is yet to receive an answer from the Juventus great.
And the front runners in the race for Del Piero's signature were presented with fresh opposition today as Liverpool joined in with an offer.
Pignata admitted there was some chance Liverpool's interest could derail the attempted signing but remain confident a deal with Sydney was "very close".
"Liverpool have come in ... and they're a big club, there's no denying that," Pignata told Fox Sports.
"But I think the attraction of Australia might sway us.
"I'm still confident but until we get that signature on a piece of paper, you never know."
Pignata stressed the Sky Blues had done everything they could to get a deal reportedly worth $2 million dollars over the line and said he was remaining patient.
"We've done as much as we can to get this deal over the line," Pignata said.
"We're all anxious. I'm sure there's a lot of fans out there hanging on to get a decision.
"We've just got to be patient. We've only been in these negotiations for a week and sometimes these sort of negotiations take longer.
"We'll know soon one way or the other."
The parties were due to meet again on Wednesday night (AEST).
Sydney FC announced last week Del Piero had "agreed to finalise details on a contract" only to be forced into a U-turn after a denial by Del Piero's camp.
The 37-year-old Del Piero's 19-year career with Juventus ended last season when he was not offered a new deal after they had won their first league title since 2003.
As well as Sydney FC, Del Piero had been linked to Scottish champions Celtic, Premier League newboys Southampton, Sporting Braga of Portugal and Swiss side FC Sion.
Del Piero began his professional career at Padova, where he played only 14 games before being signed by Juventus in 1993.
He remained with the Turin-based club until 2012 having scored 208 goals in 513 appearances and was a member of the Italy side that beat France on penalties in the 2006 World Cup final.
-AAP