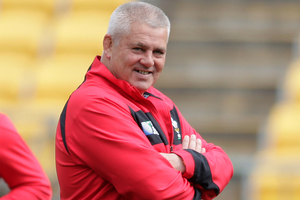 Newly appointed British and Irish Lions coach Warren Gatland is ready for mind games from Australian Rugby Union (ARU) chief executive John O'Neill when he leads the side against the Wallabies next year.
"I just think you have got to handle that," Gatland told reporters after he was formally confirmed today as coach of the combined side from England, Scotland, Ireland and Wales for the 2013 tour of Australia.
"They are masters at that," said Wales coach Gatland, who guided his adopted country to the semi-finals of last year's World Cup in his native New Zealand.
"Possibly the best one was John O'Neill as a master of influencing certain things.
"I don't see any better example than the (World Cup) quarter-final of South Africa v Australia and how it was influenced it was a master stroke.
"With Ireland beating Australia in that pool game, certain complaints were made about the referee subtly and I think that had an impact on the quarter-final.
"I am not decrying it but it was absolutely outstanding for what it did for his (O'Neill's) nation," he said of a match the Wallabies won before losing to eventual champions New Zealand in the semi-finals.
Gatland, no stranger to a bit of verbal jousting himself, added: "I have got a huge amount of respect for what John O'Neill has done in terms of leading Australia in sport and he is a master at what he does.
"We have got to be aware of what sort of things potentially are going to be happening behind the scenes to maybe put us off. It is important I just keep my head down and don't say too much."
Gatland is only the second overseas coach to lead the Lions, following in the footsteps of fellow Kiwi Graham Henry, who was in charge for the 2001 series loss to the Wallabies - the Lions last visit to Australia.
"I'm well aware of the potential criticism; that it should have been someone who is British or Irish, and I understand that," said Gatland, who has coached Ireland and English club Wasps, as well as Wales.
"But I see myself as being a bit different to that.
"I've been coaching in the northern hemisphere for 23 years - on and off since 1989.
"I've lived and coached in Ireland, I've lived and coached in London, in England, and now I'm living and working in Wales.
"That has given me a great insight, culturally and an understanding."
- AFP