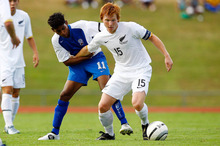 New Zealand footballer Dan Keat made it to New Caledonia today.
While ordinarily that might not seem that remarkable, it's significant for a player who has had to withdraw from a number of national teams because of injury.
The Los Angeles Galaxy midfielder had to pull out of June's Oceania Nations Cup and warmup games against El Salvador and Honduras because of a knee complaint and also withdrew from the 2008 Beijing Olympics because of a serious leg injury.
Add in the fact he fractured his ankle playing school football on the eve of a month-long trial with Blackburn in 2004, and injuries have had more of an influence on his career than he might have liked.
"It has felt like two steps forward and one step backwards," Keat said in relation to his protracted international career. "But it's life. You just have to take the knocks when they come along.
"But this is a good opportunity for me in the next couple of games to contribute."
The All Whites need plenty in their squad to chip in when they meet New Caledonia in Noumea on Friday night and the Solomon Islands at North Harbour Stadium next Tuesday in two vital World Cup qualifiers.
They are the first games since New Zealand's disastrous Oceania Nations Cup campaign in Honiara, when they finished third, but they have been bolstered by the return of skipper Ryan Nelsen and West Ham's Winston Reid as well as the return to fitness of goalkeepers Mark Paston and Glen Moss.
Keat is also likely to feature. The 24-year-old has played only once for the national side when he came on for 25 minutes in February's 3-2 defeat to Jamaica in Auckland.
He has been anointed as Simon Elliott's successor in central midfield and these games loom as a chance for him to prove talk of passing of the mantle is justified.
Central midfield is still an area where there's a vacancy. The problem was brought into greater focus by the unexpected retirement of Tim Brown and it was an area where the All Whites struggled at the Nations Cup in Honiara.
Striker Chris Killen was pitched into action alongside Michael McGlinchey in a move that didn't work and promising youngster Tim Payne is an option long-term. Christchurch's Aaron Clapham missed out on the squad for these games.
Keat has been down the pecking order at the Galaxy since recovering from knee surgery but that's not unexpected considering who is keeping him out of the side - David Beckham and Juninho are two of the biggest stars not only at the Galaxy but also in the league.
He has played only one Major League Soccer game this season, and that was in the unfamiliar position of centre-back.
"[Galaxy coach] Bruce Arena has a lot of faith in me to play a lot of different positions," Keat said. "It can be hard because you don't play in one position all the time but he has confidence in me to play across the backline and midfield. But centre midfield is my best position.
"Since my injury I have been restricted to reserve-team action. It's still solid games but it's not 100 per cent where I have to be. I have to work my way back in."
It's exactly the mindset he needs with the All Whites.
- APNZ
By Michael Brown

Email

Michael