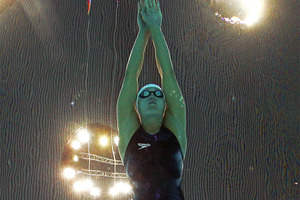 For the first time in five days, New Zealand failed to pick up a medal at the Paralympic Games but that should change tonight (NZT) when Sophie Pascoe chases her fourth medal in the pool.
Only five Kiwis were in action overnight, with swimmer Rebecca Dubber finishing ninth of the 14 starters in the S7 women's 100m freestyle and dressage rider Anthea Gunner and her horse Huntingdale Incognito 17th of 19 starters in the grade II musical dressage test at Greenwich Park.
Light winds in Weymouth proved difficult to navigate for the New Zealand SKUD18 two-person keelboat crew of Jan Apel and Tim Dempsey, who finished eighth in race three and last in race four to be ninth overall.
The Auckland pair were the third fastest crew but two tactical blunders in almost the identical spot proved costly. In both races they missed the lay-line and tacked too late, offering an open door to their competitors.
Paul Francis was 16th in today's first race in the 2.4R one-person keelboat but recovered strongly to finish third later in the day and is 14th overall after six of the 11 races.
New Zealand sit 13th on the medal table with 11 medals (4 gold, 3 silver and 4 bronze) and that number should increase tonight with Pascoe swimming in the 100m backstroke, one of her favoured events.
Peter Martins is also a strong contender in the F52/53 javelin and Tim Prendergast will look to repeat his gold from eight years ago in Athens in the 1500m.
Daniel Holt is also in action in the S13 400m freestyle and Rebecca Dubber in the 50m freestyle and Rachel Stock and Bates Rimini Park Emmerich will compete in their individual freestyle dressage test.
- APNZ