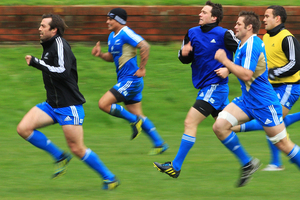 Conrad Smith, left, trains ahead of this weekend's test against Argentina. Photo / Getty Images
Conrad Smith has been welcomed back into the All Blacks fold ahead of Saturday night's test against Argentina in Wellington.
Smith missed the first two Rugby Championship tests against the Wallabies following eye surgery.
All Blacks assistant coach Ian Foster says it's a great to have Smith back.
"He's a quality player. I think I've said earlier that I think he was the best player in the country in Super Rugby. To have him back and looking fit and strong is great."
The All Blacks trained in Wellington this morning.