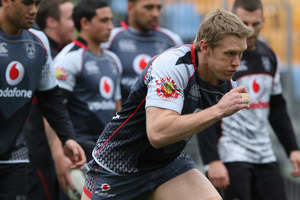 Micheal Luck is hoping the aches and pains will begin to fade away in a couple of months.
For 12 years and 226 games he put his slender frame through hell. In the last year alone he underwent five surgeries - two shoulder, two wrist and one finger. Often enough in recent times he's resorted to painkilling injections just to get onto the field.
One can only wonder how he has felt coming back off it. After yesterday's final 33-tackle, five-carry effort his face looked as if it had just lost a scrap with a gravel road.
"I am at the end of my rope physically," he admitted after his career ended in somewhat grim fashion, as the Raiders steamrollered the hapless Warriors.
Luck at least kept fighting to the end. Plenty of his teammates simply lay down in the face of the Raiders' onslaught.
"Glad to go out still playing," he shrugged.
As for the condition of his body, it's a price he's always been more than willing to pay.
"You don't come into this job thinking you are going to be 100 per cent by the time you leave it," he said. "That's a cross I'm well and truly willing to bear.
"The good times have outweighed the negative things that I am going to take out of it. Mate, I've had a ball. I wouldn't change a thing.
"Now it is just about me being smart with what I do with the rest of my life. I have got to have a rest for a few months, let everything settle and get back into some sort of working order. After that we will see, but I can't see myself doing too much activity in the next few months."
Yesterday's defeat - a record extending eight on the trot - followed a familiar pattern. The Warriors sparkled early and rattled up a healthy 22-6 halftime lead before falling into a bottomless hole and conceding six unanswered second-half tries.
It wasn't the send-off that Luck - one of the Warriors' all-time greats - and fellow departers James Maloney, Lewis Brown and Ukuma Ta'ai would have wanted.
"Obviously it's not how you'd write the last chapter if you were writing a book, but that is how it is," Luck said.
"It won't sink in for a while. What we do is a week-to-week thing. You're so focused on what you've got to do the next weekend you don't tend to look much past that. Now I have got to.
"I suppose over the next few days it will sink in and I can start thinking about the next phase of my life.
"I just want to enjoy the boys' company for the next couple of days and try to reminisce about some good times."
The best of those times included last year's heady grand final run - during which his partner gave birth to the couple's first child - and kicking around off the field with the likes of Grant Rovelli, George Gattis and Simon Mannering during his first year at the club.