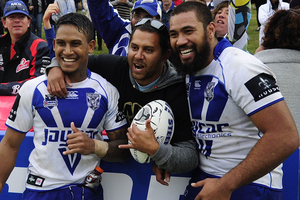 The Bulldogs have won the NRL's minor premiership for the first time in 18 years.
They've secured top spot by thrashing the Roosters 42-10 in Sydney.
Bulldogs fullback Ben Barba says it's one of two pieces of silverware they want this season.
"It's always good to be on top at the end of the season but everyone knows finals are different... it's my first one so glad we could get the win tonight and go onto next week with a bit of confidence."
The Storm have to settle for second despite easing past the Wests Tigers 26-6.
Storm halfback Cooper Cronk says they're delighted to be in the finals.
"I'm pleased with the effort. We're not playing our best football but our defence is tough at the moment."
Meanwhile the Sea-Eagles have beaten the Titans 24-16 to finish fourth, behind Souths.