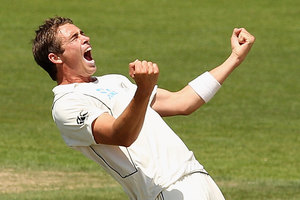 The Black Caps bowlers may have been blunted late on day two of the second test against India, but Tim Southee is positive salvation will arrive in two overs' time.
After beginning India's innings with a hiss and a roar yesterday in Bangalore, Southee and co were frustrated for much of the afternoon against a stern Indian middle order.
Their resistance led the home side from a potentially perilous position of 80-4 through to 283-5 at stumps, trailing New Zealand's first innings total by 82 runs with three days to play and leaving the match well in the balance.
When day three gets underway at 4pm NZT, India will go about overhauling their opponents' efforts, but the Black Caps have a trump card to play very early in proceedings - the arrival of the second new ball.
The tourists' seam attack caused enough carnage the first time around to suggest they will have their batsmen are back at the crease before too long.
"It's a big period for us with the second new ball to see if we can pick up the rest of them,'' Southee said.
"With the new ball, it's nice to bowl and we had it swinging so we were lucky to pick up a few wickets there.''
Southee, who picked up three of his own, is probably being modest when he mentions fortune playing a part. The opening spell of bowling by he and Trent Boult was as ferocious as new ball bowling comes, with both men causing India's top order continual problems.
Southee, recalled to the side in place of Chris Martin, said he enjoyed bowling in tandem with his Northern Districts teammate, something the pair should expect to do a lot more often.
"I've played a lot of cricket with Trent through age group and domestic. It's always good to have those guys that you've bowled a lot with in previous years.
"It was a good spell with the new ball from both of us.''
Once Southee dismissed Gautam Gambhir and Cheteshwar Pujara, and Doug Bracewell chimed in with the wickets of Virender Sehwag and Sachin Tendulkar, India began to fight back.
Filling spots five through seven in a stacked batting order, Suresh Raina, Virat Kohli and MS Dhoni showed the top order how it was done, though Southee thought that had more to do with conditions than anything.
"The wicket's a pretty good wicket and India came back well after lunch as the ball got a bit older,'' he said. "As the ball gets older it gets a bit softer and loses its bounce, it is a bit easier to bat.
"We were still creating chances, we were still getting edges. We just didn't build up enough pressure through dots and the edges, with the ball a bit softer, weren't quite carrying.''
Southee said, with the wicket at M Chinnaswamy Stadium remaining in good condition, the match was evenly poised.
"If we can pick up the wickets tomorrow without too much damage and if we can put some runs on the board, then we're right in it.''
Though, he did sound a word of warning for a batting unit that has found India's spinners unplayable at times. Ravi Ashwin took 12 wickets in the first test in Hyderabad and Pragyan Ojha already has five scalps to his name in this match - a trend Southee expected to continue.
"It's turned the whole way through and I guess that will be a massive part in how well we bat in our second innings. "
- APNZ