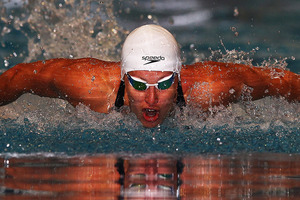 She won four medals in Beijing four years ago and Sophie Pascoe has already collected two this time around only two days into the Paralympic Games in London.
The 19-year-old backed up the gold she won in the S10 200m individual medley with silver in the 50m freestyle. She was narrowly beaten by Canada's Summer Ashley Mortimer, who set a new world record of 28.10 seconds.
"I did everything that I wanted to do, but it came down to that final touch and she just beat me in the touch but, hey, that's the way sport goes," Pascoe said.
Pascoe had earlier set a new Paralympic record in her heat in 28:41 only for Mortimer to set a new benchmark in her heat and the pair were neck-and-neck throughout the final.
The Christchurch swimmer didn't have much time to reflect, given she is due to race in tonight's (NZT) 100m butterfly, which is one of her favourite events.
Wellington's Mary Fisher also picked up silver in the S11 100m freestyle and Southland cyclists Phillipa Gray and Laura Thompson won bronze in the women's B 1km time trial to take New Zealand's medal tally to five after two days of competition. The Kiwis are 13th on a medal table headed by China with 34 medals - Australia are second with 19.
Fisher finished second in her Paralympics debut and set a new personal best and Oceania record of 1:09.83 in the process. Italy's Cecilia Camellini won in a new world record of 1:07.29.
"I'm really happy to get silver," said Fisher, who featured in the class for swimmers with little or no sight. "Going into the final stretch was really exciting. I could feel the girl next to me who got the gold. It must have been her kick on the last 25m, but it was amazing.
"I can't believe I won a medal in the 100m free."
She has the chance to add another when she competes in the women's S11 50m freestyle tonight (NZT).
Gray, who is visually impaired, and her guide Thompson were never really a realistic chance for a spot on the top two steps of the podium but beat Great Britain by two-hundredths of a second to snatch bronze in the velodrome.
"I just heard [Phillipa] squeal when she looked up and saw we got the bronze. That's all I needed to see and I was like, yes," Gray said in delight.
The pair is now looking to go even better on Sunday when they will compete in their favoured event, the 3000m pursuit.
Waikato's Peter Martin threw a personal best in the F52/53 men's shot put but just missed out on a medal. His throw of 8.62m was third-furthest on the night but, because of the scaling in the competition, he had to settle for fifth.
Danny McBride was fourth in his heat of the AMS1x single sculls rowing and will need to advance through to the repechage but Anie Kelly-Costello (S11 100m freestyle), 13-year-old Nakita Howarth (S7 women's 50m butterfly) and Daniel Holt (S13 men's 100m butterfly) all missed out on a spot in their finals.
- APNZ