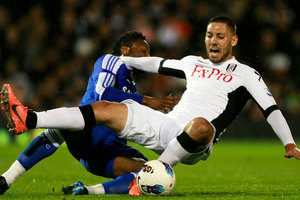 Tottenham has signed US international Clint Dempsey from fellow Premier League club Fulham, sealing the deal shortly before today's transfer deadline.
Both London clubs confirmed the deal for the 29-year-old attacking midfielder on their websites.
Dempsey had refused to play for Fulham this season ahead of a widely expected move to Liverpool. After negotiations between Fulham and Liverpool foundered, he was able to secure a move across town to Spurs.
Fulham said in a statement that "Clint was a very influential player for Fulham over a number of seasons and the club thanks him for his contribution and wishes him well for the future."
Dempsey made his Fulham debut against Tottenham after joining from New England Revolution in December 2006.
No details were given of the deal.
Though Dempsey had made it clear he was eager to move to American-owned Liverpool, he was enthusiastic about playing under new Spurs manager Andre Vilas-Boas.
"To play under this head coach and play for this club is a dream come true. I want to make the most of it," Dempsey said on Tottenham's Twitter feed.
"There are a lot of great players here, I'm looking forward to training and playing with them."
Dempsey had not played for Fulham in the early games of the season while he waited for a transfer to be completed, but said he had no ill will toward the Cottagers.
"A lot was said and written ahead of me leaving Fulham," Dempsey said. "It wasn't how it was portrayed, but that's in the past now and we move on.
"I want to thank the fans for everything, some of the best memories I've had in football, and thank the chairman for giving me the opportunity to come from the MLS and compete over here."
-AP
- APNZ