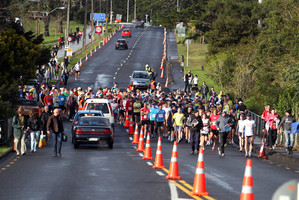 The Legend Run is a once-a-year opportunity to follow in the footsteps of legends.
All events follow the famous Waiatarua routes, set in the Waitakere Ranges in West Auckland, previously used by Arthur Lydiard to train his proteges - elite athletes such as Sir Peter Snell and Sir Murray Halberg, among others such as the Arch Jelley-trained Sir John Walker.
"It created Olympic champions," said event organiser Ian Winson. "The route is recognised worldwide and is noted in many running books and magazines."
Fleur Turner Williams, a 40-year-old business administrator from Onehunga, was inspired to take part in the event after being in awe of what Arthur Lydiard did for running.
"He is a true legend," she said. "As well as helping to produce New Zealand biggest running names, he also helped found and inspire the Auckland Joggers Club and took recreational running to the world.
"Running the famous track will be a truly amazing and inspiring experience."
Winson said there was no doubt it is a tough run but with careful management very achievable to most.
"A lot of it is mental as it has all the elements: ups, downs, flats, sealed road, off road and beautiful scenery. It is definitely not a boring run."
Turner Williams, who has a background in recreational horse riding, is making her marathon debut.
"This may be my only marathon. If it is, I want to do the toughest and hardest one out there. Daunting, yes, but I can't wait.
"Running became a bigger part of my life as I approached 40. A bad back limited my ability to ride my horse and eventually forced me out of my hobby. A desire to lose a few kilos also got me running more. I started to run more regularly and began wondering how much I could achieve and I decided to find out.
"I saw articles about the event over the past few years and I decided that I would do it as part of a self-motivated challenge for my 40th year."
She is expecting four results from the course: pain, tired legs, blisters and aching joints. Turner Williams had a training programme compiled by Jon Ackland at Performance Lab.
"The first training run was at the end of March and was a 30-minute easy run in the pouring rain, and I wondered what I had signed up for. Tomorrow I am doing 36km of hills ... and will wonder what I have signed up for. There have lots of miles in between."